ZOMBIE JELLY BRAIN TREAT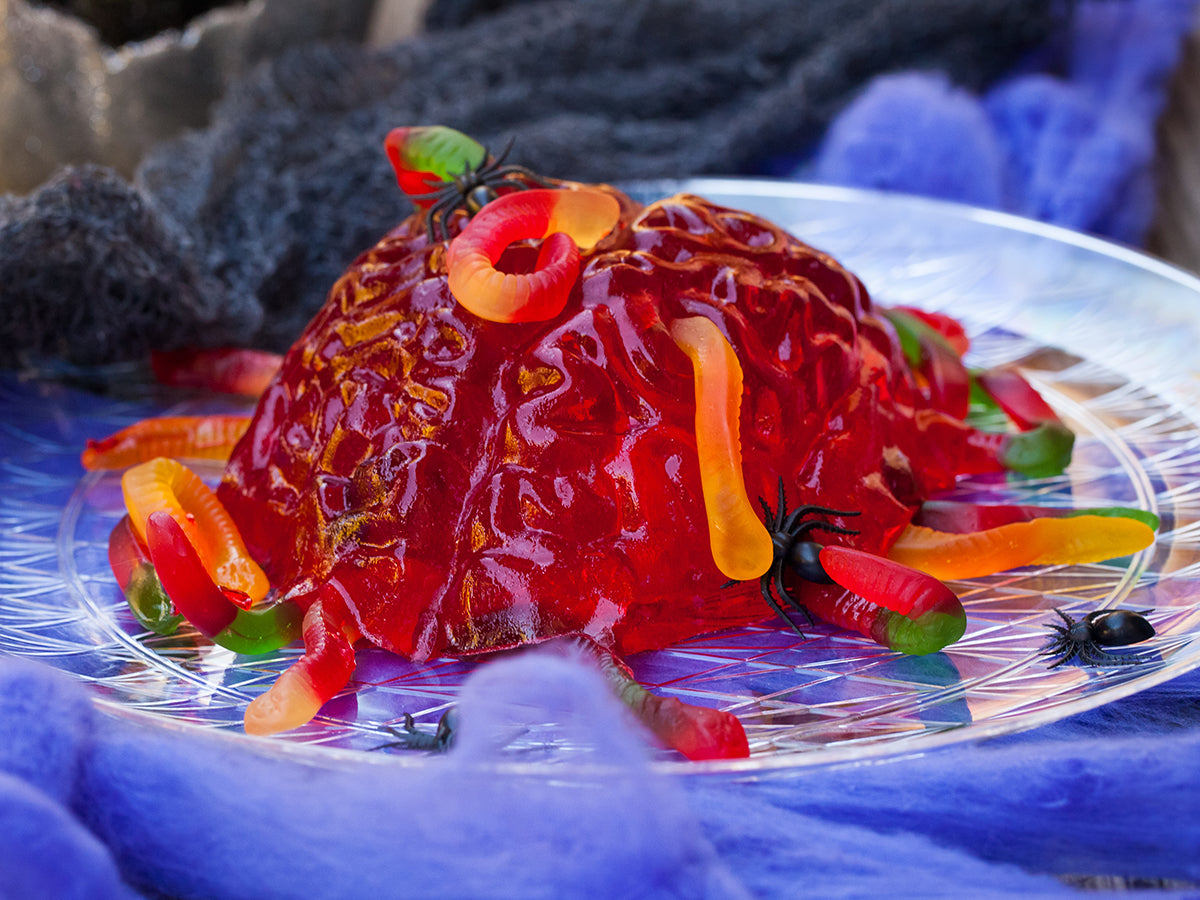 Did you know that Zombies are craving brains to consume? Make sure that you have some delicious brain available for all of your Zombie guests on Halloween night. You can make a family-friendly option using water or a giant Jello shot by replacing the cold water by Vodka in the recipe below.
Ingredients:
2 packets Strawberry Jello Mix (6 oz. each)
2 cups Water (for boiling)
1 can Fat Free Evaporated Milk (12 oz.)
½ Cold Water (or Vodka)
Chefmaster Liqua-Gel® food coloring (Red Red or Super Red)
Cooking Spray
Gummy worms (optional).
Tools & Utensils:
1 Brain Cake Mold
1 Mixing Bowl
1 Whisk
1 Water Kettle or pan to boil water 
Preparation:
Apply a light layer of cooking spray inside the mold. Set aside.

Put 2 cups of water to boil in a water keetle or a saucepan.

Pour the Jello mix in your bowl. Slowly add the boiling water and stir until the powder is completely dissolved.

Add in the cold water (or alcohol) and the evaporated milk. Stir well.

Add a couple of drops of Red Chefmaster Liqua-Gel® food coloring to reach the color intensity you desire. Stir until the color is well blended.

Pour the mixture into the brain cake mold. 

Place the mold in the fridge for 2 to 3 hours, or until the jelly mixture is set.

When ready to serve, remove from fridge and shake the mold gently. Place a plate lightly larger than your mold on top of it. 

Tip the mold and plate upside down so the plate is under the mold and continue shaking lightly until the jelly brain falls into the plate.

Set the plate on a flat surface and slowly left the mold.

Decorate your jelly brain with gummy worms or other Halloween decorations as desired.

Get ready for the Zombie invasion!