WINTER RASPBERRIES FRENCH MACARONS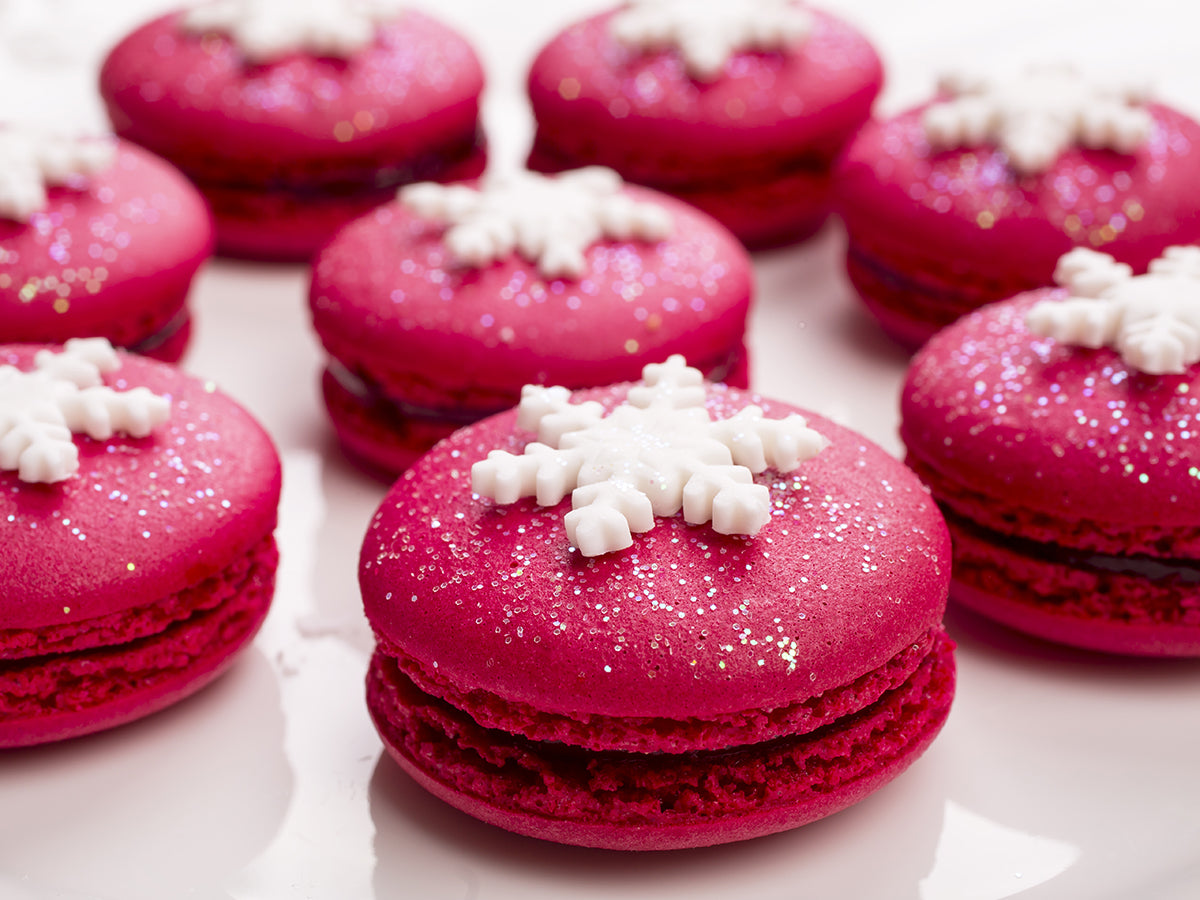 French macarons are not to be confused with coconut macaroons. These delicate meringue shell sandwich cookies are crunchy and scrumptious and can take some practice to make. Traditional recipes called for fresh egg whites, almond flour, and sugar. Adding a high ratio egg meringue powder such as Chefmaster Deluxe Mering Powder to the formula helps stabilize the egg whites so they can thicken properly and form the perfect macaron shells.
When coloring French macarons, you need to be mindful to not add too much moisture to the recipe or your macaron shells will not rise correctly. To reach deep rich hues, we recommend using dry powders or gel paste coloring like in the recipe below. For convenience we selected a smooth seedless raspberry fruit spread for these winter macarons, but feel free to substitute by any other smooth filling of your choice (home-made or store-bought) or customize these macarons by using different colors or fondant decorations.   
Ingredients:
2 Large eggs, room temperature

2 Tbsp Meringue Powder, sifted

2/3 cup Almond Flour, sifted*

1 cup Powdered Sugar, sifted (plus more for dusting)

¼ cup Granulated sugar, sifted

1/8 tsp (0.5g) to ¼ tsp (1g) Chefmaster Red Dry Powder Candy Colors, sifted, depending on the color intensity you desire.

Seedless Raspberry Spread (or any other smooth filling of your choice)
4 oz. White Rolled Fondant
Edible Glitter (optional)
 *Note: the quality and thickness of your almond flour is very important when making macarons and they vary greatly from brand to brand. It is very important to shift your almond flour to achieve the proper batter texture for your macaron shells. The thicker the almond flour the more times you might need to run it through the shifter. We recommend purchasing the finest blanched (aka no skin) almond powder you can find so you can save time and only have to shift it once or twice. Also check your label twice and do not accidently grab Almond Meal instead of Almond Flour while at the grocery store. Almond meal is thicker and contains larger pieces of almonds skin. Your macaron shells will not rise properly if you use Almond Meal. 
Tools & Utensils:
Measuring Cups & Spoons
Bowls
Stand Mixer with a Whisk attachment (or electric mixer and large bowl)
Sifter
Spatulas
Macarons Mats
Baking Sheets
Decorating Pastry Bag with coupler and large round tip (#12 or similar)
Rubber band (of flat plastic bag clip)
Tall wide glass or small flower vase (optional)
Silicon Rolling Mat
Fondant roller (or rolling pin, silicon preferred)
Snowflake Plunger Fondant Cutter
Small Paing Brush (new or used exclusively for food applications)
Preparation:
Prepare and measure all your ingredients.
Make sure to

fully sift

all your dry ingredients. This is a very important step while making French macarons and will affect the final texture of your macaron shells if any lump is remaining.
Preheat oven to 325°F (300°F for convection oven).

 

Prepare your Fondant Snowflakes (can be prepared ahead of time)
Lightly dust your rolling mat and rolling pin with powdered sugar.
Coat your hands with powdered sugar and knead your fondant until pliable (about 5 to 8 minutes, more if it's cold).
Form a disk and place on your rolling mat.
Roll fondant between 1/16" and 1/8" depending how thick you want your snowflakes (the thinner they are the more difficult it might be to remove them from the cutter)
Use your plunger cutter to cut snowflakes by pushing down on the plunger. Cut as many snowflakes as you can.

 

Once you are done cutting all of your snowflakes, gently remove the scrap fondant around the snowflakes, form a ball with the scrap and either knead and roll a second time to make more snowflakes of wrap tightly into plastic film to keep to make edible glue and for future use.

 

Let the snowflakes dry for at least an hour before transferring them carefully to a flat surface to fully dry.

 

Once dry, your fondant decorations can be kept for weeks in an airtight food storage container.
Prepare your macaron shells:
Place your room temperature egg whites in a large bowl. Make sure your bowl is really clean, dry and free of any grease or oil residue.
Slowly add your Granulated sugar to the bowl and beat together on medium high.
When the mixture starts foaming, add your sifted meringue powder and dry powder red food coloring. Continue mixing on high speeds until high peaks (approx. 1 to 2 minutes).

 

To test your mixture, rub a little bit of it in between 2 fingers. It should feel smooth and no longer grainy. Do not overmix.

Reduce mixer speed to medium. Add sifted almond flour and powdered sugar. Beat just enough for the mixture to be well combined and smooth. This step is pretty quick and usually takes approx. 5-10 seconds.
Remove bowl from stand mixer. Use a silicon spatula to gently scrape down the sides of the bowl and fold the batter into the center of the bowl in a circular movement.

 

Continue gently folding the batter alternating making slow circular and figure 8 movements with your spatula. Your batter is ready when you can pull your spatula above your batter batter and make a figure 8 with the batter string without it breaking.
Place one macaron mat in each baking sheet.
Attach the coupler and large start tip to your first pastry bag.
Fold the top of the pastry bag down a few inches and use a spatula to carefully transfer macaron mixture into your pastry bag.

 

It is easier to set your pastry bag inside a tall glass with the tip down and fold over the sides of the glass than to hold the bag with your hands.
Close your decorating bag by twisting the top and sealing with a strong rubber band or plastic bag clip.

Pipe macarons shells onto your macaron mat making sure to fill the pre-printed circle size of your choice.
Once you are done piping, tap your baking sheets

lightly

against your counter top (or any rigid surface) to remove any potential air bubbles.

 

Let the macaron shells sit on the counter for about 30 minutes to let them start crusting and drying slightly.
Bake macarons shells for 13 to 15 minutes depending on the size of your macaron shells.

 

Remove from oven and let the macaron shells cooled completely before filling.
Make Edible Glue with your scratch fondant:
Put a tiny bit of fondant in a small microwave safe bowl. Heat 10 seconds at the time until slightly melted.
Add a few drops of warm water at the time to your fondant and mix with a small spoon until you reach the consistency of school glue.
Assemble and decorate French Macarons:
Once the macaron shells are fully cooled, spoon a small amount of raspberry spread on the top of one macaron shell and top with a second shell to sandwich the filling. Set aside. Repeat for all macarons.
Sprinkle Edible Glitter on top of macarons.
Brush a small amount of edible glue on the back of one fondant snowflake and attach to the top of one macaron by gently pressing down.
Repeat for all macarons.
Let dry about one hour before moving the macarons to a plate or an airtight container. Your macarons will last for a couple of days in the refrigerator and up to 4 months frozen. You can also make the shells and freeze them in advance.
Voila! Your French macarons are ready to enjoy.