ST PATRICK'S DAY CHOCOLATE AND CANDY BARK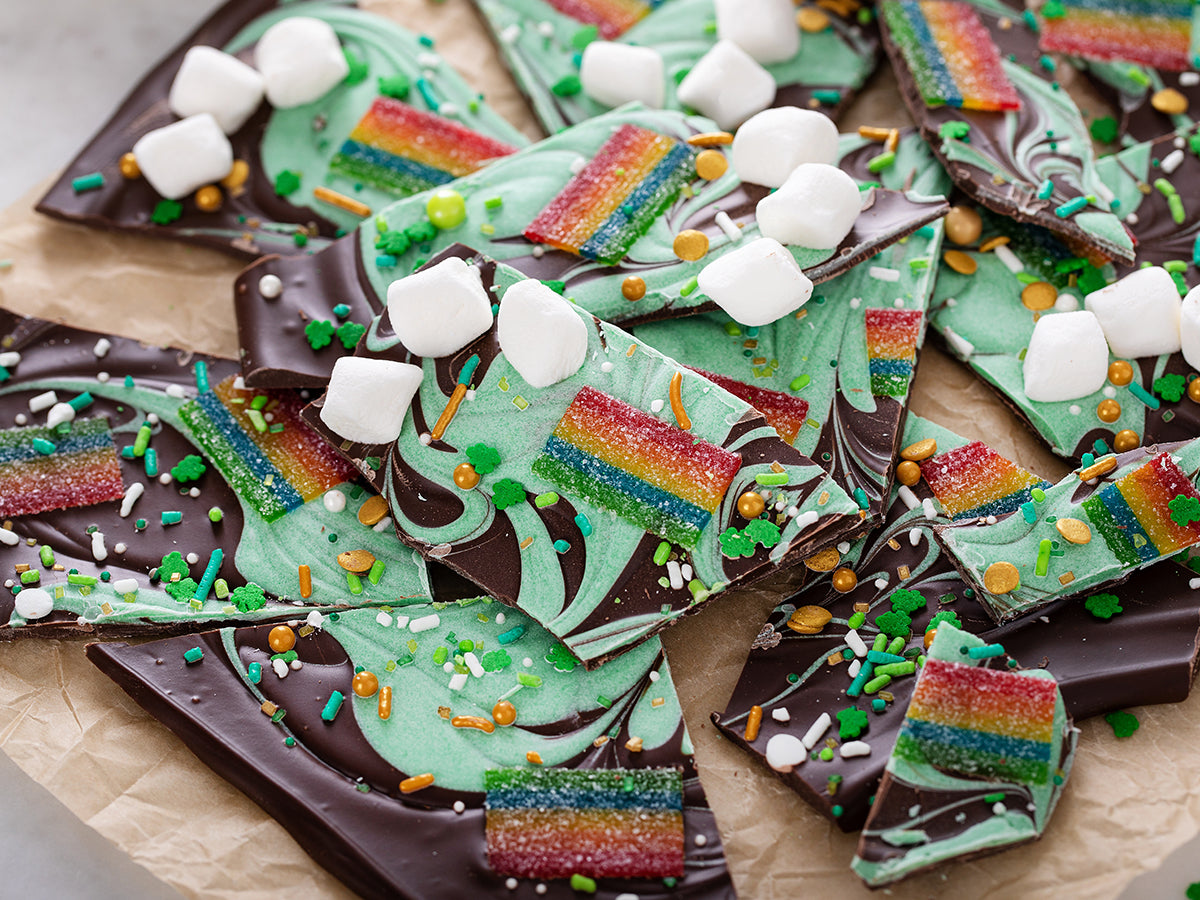 There is no sweeter way to spread the Luck of the Irish than by sharing this colorful and super easy no bake chocolate and candy bark. We selected to go with a Pot of Gold theme for our St Patrick's Bark (with marshmallow clouds, rainbow candies and gold sprinkles), but feel free to use any other toppings of your choices, such as lucky charms marshmallows, chocolate covered candies, or anything else you fancy.



Ingredients:
24 oz. Semi-Sweet Chocolate Chips (or Almond Bark)
12 oz. White Chocolate Chips (or Candy Melts)
1 bag Small Marshmallows
1 bag Rainbow Sour Bites Candy
St Patrick's Day Sprinkle Mix of your choice
Chefmaster Green Candy Color
Tools & Utensils:
Kitchen Scale
Bowls (microwave safe)
1 Baking Sheet
Parchment Paper
1 Wooden Kebab Dowel (or toothpicks)
Silicone Spatulas
Preparation:
Prepare and measure your ingredients.
If you purchase rainbow sour candy strips instead of bites, cut them into 1 ½ inch pieces.

It is important to have all of your ingredients ready as you will need to work quickly and will have a few minutes to top the bark with them before it hardens (approx. 5 minutes)
Line your baking sheet with parchment paper.

Pour your Semi-Sweet Chocolate Chips and your White Chocolate chips in two separate microwave safe bowls.

Start melting your White Chocolate Chips in the microwave 30 seconds at a time stirring in between until smooth. 

Once melted, slowly some add Chefmaster Green Candy Color (about ¼ oz.) and mix until well blended. Set aside.
If you want a deeper green color, continue adding some Candy Color until your mixture reaches the desired color.
Start melting your Semi-Sweet Chocolate Chips in the microwave 30 seconds at a time stirring in between until smooth. 
Pour Semi-Sweet Chocolate Chips onto your parchment lined baking sheet and smooth out evenly
Melt your green colored white chocolate in the microwave 10 seconds at the time for another 20 to 30 seconds. It should have fully rehardened.
Drizzle or spoon the green mixture at different locations on the top of your semi-sweet chocolate.
Use a kebab dowel or a toothpick to run through your chocolate mixture and create a marble effect covering the entire chocolate bark.
Quickly add your Rainbow sour bites and your small marshmallows on the top of the bark pressing lightly on them so they will not fall off.
Continue working quickly to sprinkle your St Patrick's Day Jimmies before the chocolate mixture harden.
Place in freezer for 10 minutes and move to refrigerator to chill for another hour to allow your bark to completely harden.
Once chilled, break your bark into pieces using your hands.
If you want to put your bark into triangle or squares, you will need to carefully transfer your bark to a cutting board and use a very sharp and long kitchen knife to have a clean cut.
Serve immediately or keep in an airtight container for several weeks.
Your St Patrick's Day bark also make a great gift for friends, family members, teachers, classmates, and so forth. Just pack a few pieces in a food approved clear cookie bag with a cute ribbon, put on your best Leprechaun outfit and get ready to spread some Luck of the Irish around.