RICE KRISPIE HEARTS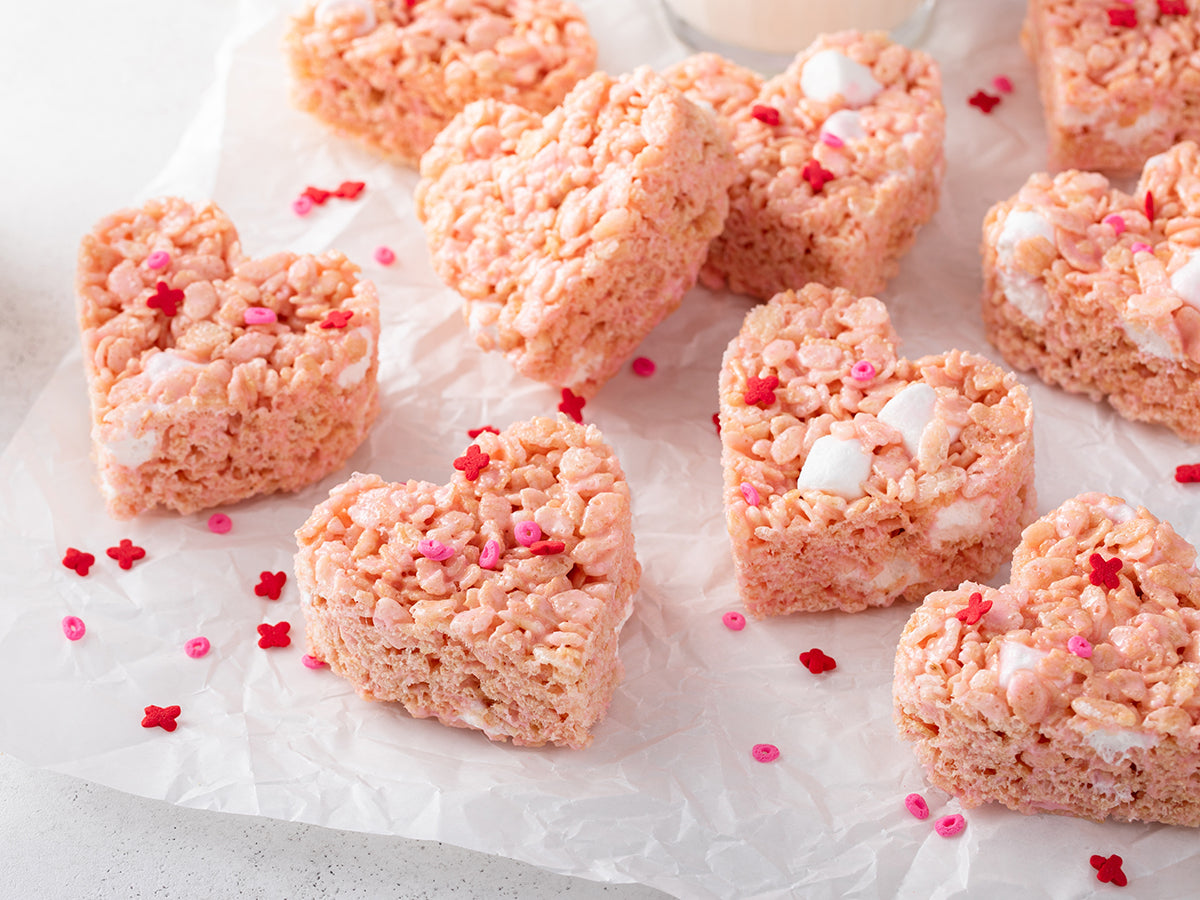 Everybody loves rice Krispies. This is a fun and easy kid activities and will make great Valentine's for their classmates.  



Ingredients:
6 cups Rice Krispies Cereals
1 bag Large Marshmallows
1 bag Small Marshmallows
¼ cup Butter
Chefmaster Rose Pink Liqua-Gel® food coloring
Valentine's Sprinkle Mix of your choice
Cooking Oil Spray
Tools & Utensils:
Large Sauce Pan
Baking Sheets
Waxed Paper
Heart shape cookie cutter
Preparation:
Prepare and measure all your ingredients.

Line a baking sheet with waxed paper

Melt the Butter in the pan over low heat. Add the marshmallows and stir until they are melted and well-combined with the butter.

Remove from heat. 

Add a couple of drops of Chefmaster Rose Pink Liqua-Gel® food coloring until you reach the desired shade.

While mixture is still warm ((but not too hot to touch), add as much (or as little) sprinkles and small marshmallows into the rice Krispies as you want.

Quickly pour the mixture into your baking sheet. Spread evenly using a spatula, your hands or by pressing down the bottom of a second baking sheet onto the Rice Krispie mixture.

Note: it is always better to grease your hands, the spatula, or the bottom of the baking sheet with a thin layer of shortening to avoid the Rice Krispie to stick to them. 

Let cool completely. 

Once cooled, use a previously greased heart shaped cookie cutter to carefully cut heart into the layer. 

If using a metal cookie cutter do not press too hard to avoid damaging your baking sheet. 

Reapply shortening on cookie cutter as needed until all the hearts are cut.

Your Valentine's treats are ready to enjoy.