PEPPERMINT CANDY CANE COOKIES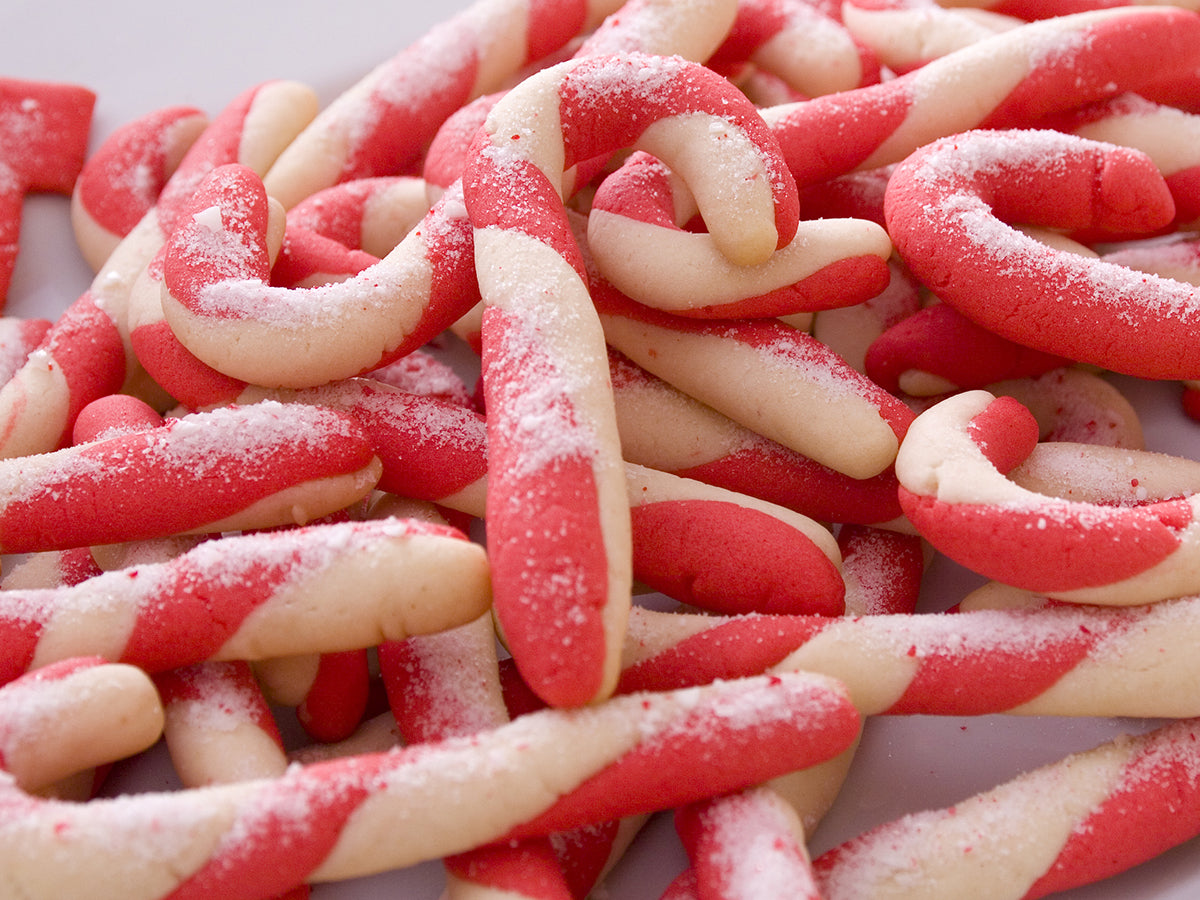 Peppermint Candy Canes can be found everywhere at Christmas time. These delicious cookies are a great twist on this holiday tradition. They are very easy to make and a fun activity to try as a family. For even more fun try different color combinations to make green, pink, blue or purple candy cane cookies. Your imagination is the limit.



Ingredients:
2 ½ cups All Purpose Flour

1 cup Powdered Sugar

½ cup Butter, softened

½ cup Coconut Oil

1 Egg

1 tsp Vanilla Extract

½ tsp Almond Extract

½ tsp Peppermint Extract

1 tsp Salt

Chefmaster Super Red Liqua-Gel® Food Coloring
Tools & Utensils:
Measuring Cups & Spoons
Bowls
Whisk
Wooden Spoons or Spatulas
Baking Sheets
Parchment Paper
Waxed Paper
Preparation:
Cut Butter in small cubes and set aside to soften for at least 20 minutes.

Prepare and measure all your ingredients.

Line your baking sheets with parchment paper.

Preheat oven to 375°F.

In a large bowl whisk together by hand Butter, Coconut Oil, Egg and all 3 flavor extracts until well combined.

Mix in Powdered Sugar until well incorporated.

Slowly add Flour and Salt and continue mixing until well combined.
Mixture will become too thick to continue mixing with a whisk. Use a wooden spoon or spatula or even knead using your hands to combine.
Divide dough in half and move one of the halves to a separate bowl.
Add Chefmaster Super Red Liqua-Gel Food Coloring a few drops at a time and blend until evenly distributed until you reach the color you desired
Lay waxed paper into your work surface.
Grab just enough dough from each bowl to create 2 dough balls about ¾" in diameter.
Use your fingers to roll each ball of dough into a thin log.
Put 1 red dough log and 1 white dough log side by side and roll together to create a single bi-colored log.
Slowly twist the bi-colored log so it looks like a striped candy cane.
Set striped log into your parchment lined baking sheet and carefully bend to form a candy cane.
Repeat steps 11 to 15 above until there is no dough left.
Bake for about 8 to 10 minutes.
Let cool before removing from baking sheet.
Enjoy immediately or store in an airtight container up to 5 days.