NUT FREE CARROT CAKE WITH PINEAPPLE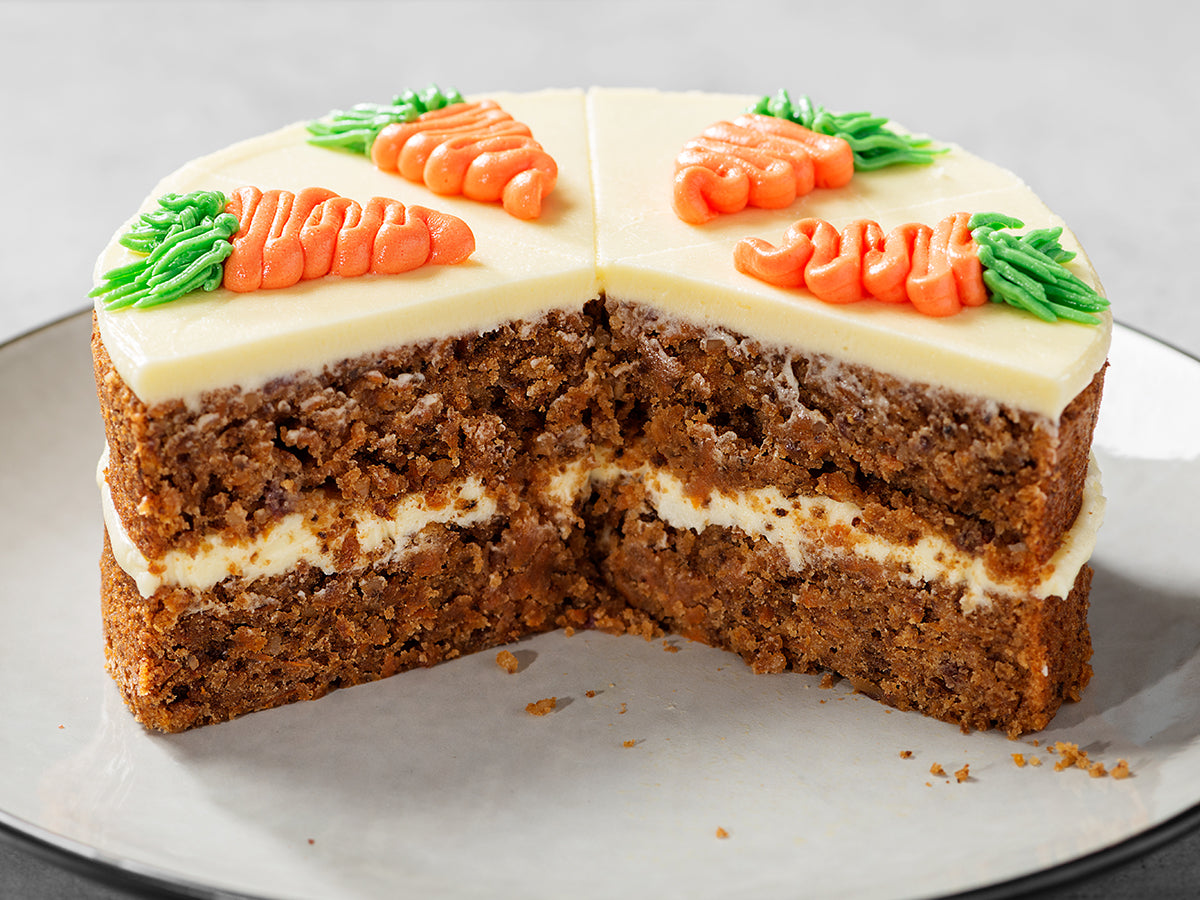 This carrot cake is so moist and easy to make. It's perfect for Easter time, or any other time of the year.  You can easily use the recipe below to make carrot cupcakes. Feel free to add nuts if you want them, but we kept our recipe nut-free in case any of your guests has nut allergies.



Ingredients:
For the Cake:
2 cups All-Purpose Flour (plus more to flour the pans)
1 ¼ cups Vegetable Oil
3 cups Grated Carrots, peeled*
1 cup Granulated Sugar
1 cup Brown Sugar
4 Large Eggs, room temperature
1 cup Crushed Pineapple, well drained
½ cup White Raisins
2 tsp Baking Soda
½ tsp Salt
1 ½ tsp Ground Cinnamon
1 tsp Vanilla Extract
For the Cream Cheese Frosting:
8 oz Full Fat Cream Cheese, cubed and softened
½ cup (1 stick) Unsalted Butter, cubed and softened (plus more to grease the pans)
4 cups Powdered Sugar, shifted
1 tsp Vanilla Extract
¼ tsp Salt
Chefmaster Orange Candy Color food coloring
Chefmaster Green Candy Color food coloring
Tools & Utensils:
9-inch Cake Pans (2)
Stand Mixer with a Whisk attachment (or Electric Mixer & Large Bowl)
Bowls (1 medium & 2 small)
Whisk
Spatulas (3)
Spoon
Icing Spatula
Cooling Racks
Flour Shifter
Cake Tester (or Toothpicks)
Decorating pastry bag with coupler and medium round tip (#8 or similar)
Decorating pastry bag with coupler and a 3-hole (#89) or 5-hole (#134) tip*
Rubber bands or plastic bag clips (2)
Tall wide Glass or small flower vase (optional)
*Note: you can also use a regular small round tip, you will just need to pipe more lines to mimic the leaves.
Preparation:
Prepare and measure all your ingredients.

Grease and lightly flour both cake pans.

Preheat oven to 350°F (or 325°F for convection oven).

Prepare your cake batter:

In a medium bowl, whisk flour, baking soda, salt, and ground cinnamon until well combined.

In a large bowl, whisk the oil, granulated sugar, brown sugar, and vanilla.

Add one egg at the time to the oil mixture, whisking after each one.

Slowly add the dry ingredients to the large bowl (about ¼ at the time), stirring gently with a spatula until they are well combined and the batter is smooth.

Slowly add carrots, crushed pineapple, and white raisins, stirring gently until evenly distributed in the batter.

Pour half of the cake batter in each of your greased cake pans.

Bake for 35 to 45 minutes or until a cake tester (or a toothpick) inserted in the center comes out clean.

While your cake is baking, prepare your cream cheese frosting.

Add softened butter and cream cheese in the bowl of your stand mixer. 

Cream on medium-low until well-combined and smooth.

Add vanilla extract and salt. Stir well to combine.

Slowly add powdered sugar to mixture on low speed until well combined and smooth.

It is very important to make sure to make sure there is no more lump left in your frosting or it will not pipe correctly to decorate your cake.

Prepare your green-colored frosting

Scoop approx. 2/3 cup frosting into a small bowl. 

Add a few drops of Chefmaster Green Candy Color and stir until the color is evenly distributed.

Attach the coupler and multiple hole tip to your first pastry bag.

Fold the top of the pastry bag down a few inches and use a spatula to carefully transfer white cream cheese frosting into your bag.

It is easier to set your pastry bag inside a tall glass with the tip down and fold over the sides of the glass than to hold the bag with your hands.

Close your decorating bag by twisting the top and sealing with a strong rubber band or plastic bag clip.

Prepare your orange-colored frosting:

Repeat the steps above with approx. 1 ¼ cup white cream cheese frosting and Chefmaster Orange Candy Color.

Use your medium round tip on your second pastry bag.

Set your 3 colors of frosting aside.

Once cakes are baked, remove them immediately from the oven and let them cool for approx. 10 minutes.

Flip each cake over a cooling rack and let them cool completely. Those cakes are dense. It might take them more than an hour to cool off completely depending on your room temperature. Be patient. If you try to ice your cakes too early your cream cheese frosting will melt.

Once the cakes are completely cooled, place one cake layer on a plate and frost the top by evenly spreading about ¼ to ½ inch of white cream cheese frosting. 

Add second cake layer on the top. Press lightly to make sure the upper layer is leveled and flat.

Use remaining icing to frost the top of the cake with a thin layer of cream cheese icing. Smooth and flatten with an icing spatula.

It is now time to decorate!

Use your orange frosting to pipe evenly spaced zigzags to mimic carrots.

Use your green frosting to pipe carrots leaves.
Your cake is now ready to enjoy. If you are not planning on consuming your delicious carrot cake the same day you are doing it or if it is really hot in your kitchen you should keep it in your refrigerator for up to 5 days.