LEMON MERINGUE PIE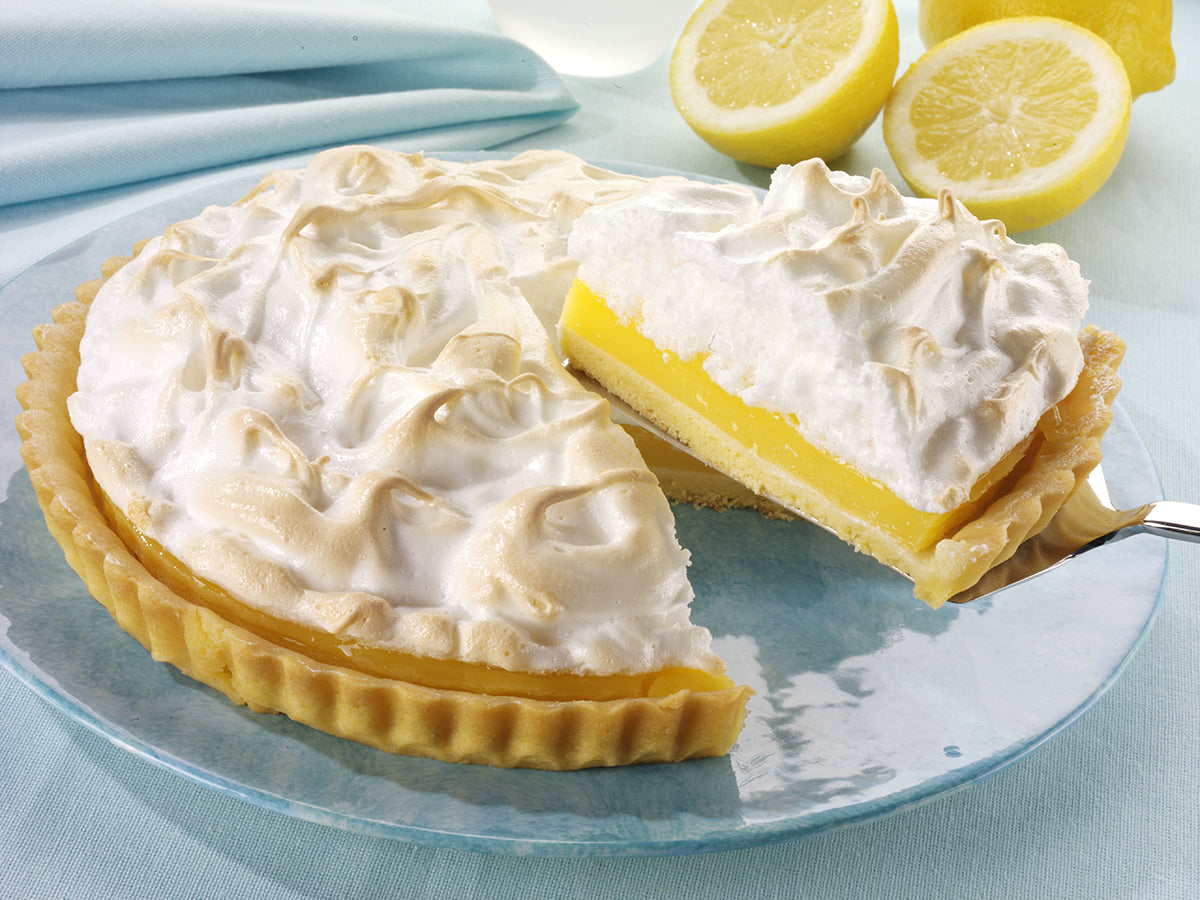 This delicious lemon meringue pie is not only the perfect summer dessert with its sunny yellow curd color, but also a wonderful dessert to enjoy all year long. This gorgeous and classic dessert might seem intimidating to make, but it's actually pretty easy. Our recipe uses Chefmaster Deluxe Meringue Powder and a pre-baked pie shell to cut down on prep time without compromising on the taste and texture of the final product.



Ingredients:
For the Pie Shell

1 pre-baked 9-inch pie tart (if previously frozen, though before use)

For the Lemon Curd

1 ½ cup Water, room temperature

1 cup Granulated Sugar

4 Egg Yolks, beaten

2 Fresh Lemons, organic preferred

3 Tbsp Cornstarch

2 Tbsp All-Purpose Flour

2 Tbsp Butter, cubed

¼ tsp Salt

For the Meringue Pie Topping:

¾ cup Granulated Sugar

½ cup Water, boiling

¼ cup Chefmaster Deluxe Meringue Powder
Tools & Utensils:
Measuring Cups & Spoons
Medium Saucepan
Zester
Juicer
Stainer
Bowls
Hand Whisk
Hot Water Kettle (or small saucepan)
Stand Mixer with a Whisk attachment (or electric mixer and large bowl)
Spatulas
Kitchen Torch (optional)
Preparation:
Prepare and measure all your ingredients. 
Make sure to separate the ones for the Lemon Curd and the ones for the Meringue Filling so you do not end up grabbing the wrong ones.
Start making your Meringue Pie Filling:
Bring water to a boil.

Make a simple syrup by dissolving ¾ cup granulated sugar into ½ cup boiling water in the bowl of your stand mixer.

Let mix cool off completely.
Prepare Lemon Curd while syrup cool off:
Wash, juice and zest your fresh lemons. If needed, strain your juice to make sure there is no pulp or seeds in it.

Beat your eggs in a small bowl that can handle heat.

In your medium saucepan, combine your granulated sugar, all-purpose flour, cornstarch, and salt until evenly distributed.  

Slowly incorporate your room temperature water, lemon juice and zest. Stir until well combined.

Bring your mixture to a boil over medium-high heat, stirring frequently. Stir in cubed butter and continue stirring until smooth.

Immediately remove from heat and gradually whisk approx. ½ cup of the hot mixture into your beaten eggs until well combined and smooth.

Return sauce pan to your cooktop and turn the heat back on. Immediately whisk in the egg mixture into the sauce pan and combine with the hot mixture already in the pan.

Bring the lemon mixture to a boil over medium-high heat constantly stirring until it is smooth and thick.

Immediately remove from heat and pour into pre-baked pastry shell.
Finish you Meringue Pie Filling:
Once the syrup is completely cooled, stir in ¼ cup Deluxe Meringue Powder. 

Beat to high, stiff peaks at medium speed then high speed. 
Spread Meringue Filling on top of warm Lemon Curd. 
If desired, burn the Meringue Pie Topping for a few minutes under your broiler leaving 4"-5" between the flame and the pie or burn with a kitchen torch. 
Let your pie cool completely before serving
Your Lemon Meringue Pie can be prepared in advance and do not need to be refrigerated if consume within 24 hours. Otherwise we recommend keeping it for a few days in your fridge. 
Enjoy!