HOLIDAYS VANILLA SUGAR COOKIES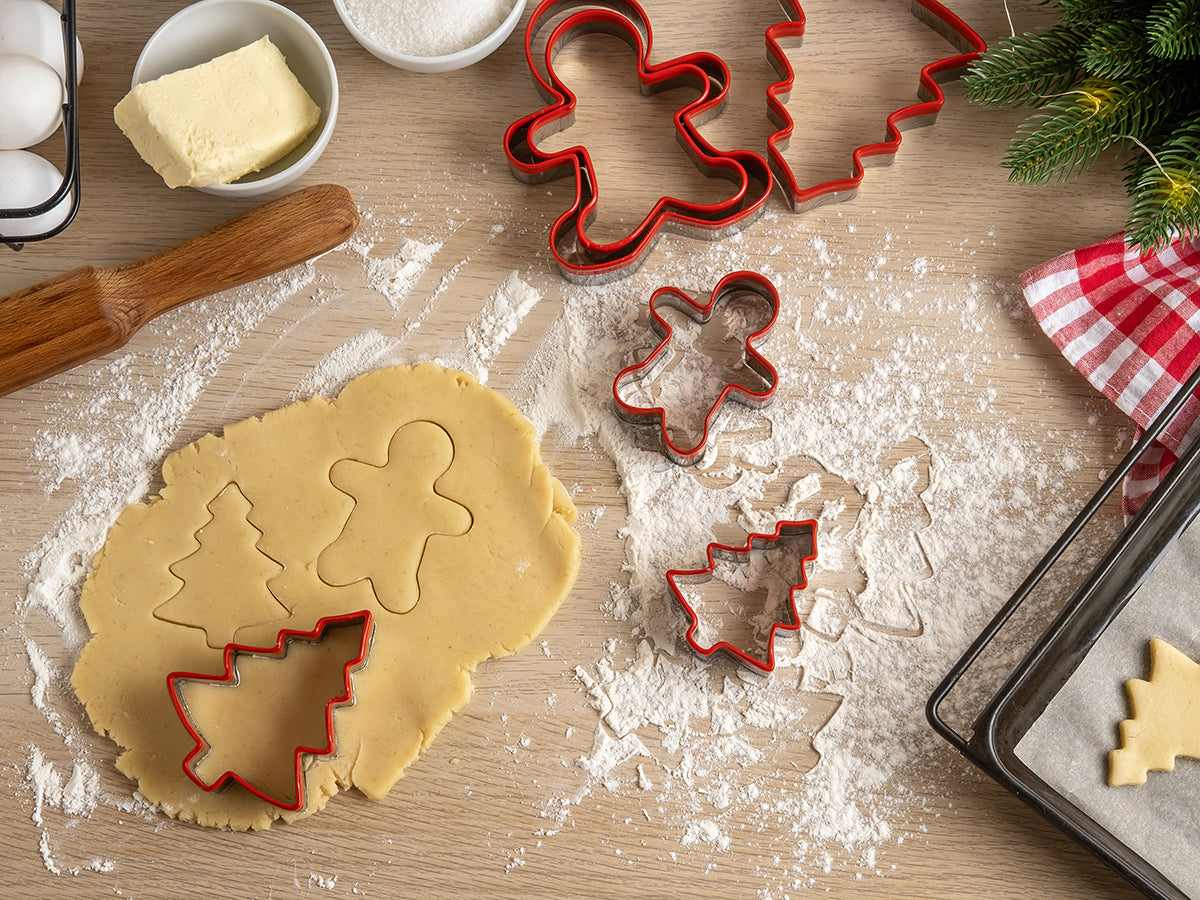 Baking cookies for special occasions can be traced back to Medieval times. Since then, every Holiday, families gather in the kitchen to bake and decorate cookies to share with friends and other family members. Gingerbread and spices flavored cookies are very popular at Christmas time, but classic vanilla sugar cookies end up stealing the show year-round. One of our favorite recipes can be found below. 



Ingredients:
5 ½ cups All-Purpose Flour (plus more to flour rolling pin and work surface)

3 cups Granulated Sugar

2 cups (4 sticks) Unsalted Butter, cubed and softened

2 Large Eggs

3 Tbsp Pure Vanilla Extract

2 tsp Baking Soda

1 tsp Baking Powder
Tools & Utensils:
Measuring Cups & Spoons
Stand Mixer with a Whisk Attachment
Bowls
Spatulas
Rolling Pin
Silicon Mat
Baking Sheets
Parchment Paper
Cookie Cutters
Cooling Racks
Preparation:
Prepare and measure all your ingredients.

Preheat oven to 375°F. 

Line your baking sheets with parchment paper.

In a medium bowl, stir together flour, baking soda, and baking powder. Set aside.

In the bowl of your stand mixer, cream together the butter and sugar on medium speed until smooth. 

Beat in eggs and vanilla on medium high speed.

Slowly add the flour mixture into the mixer bowl about 1/3 at the time and beat on medium-high speed until well combined.

Scrape the dough and remove from the mixer.

Lightly flour your silicon rolling mat and rolling pin.

Place your dough on the silicon rolling mat. Form a dough ball with your hands.

Use your rolling pin to roll the dough about ¼ thick.

Dip your cookies cutters in flour before cutting your cookies. This will prevent the dough from sticking to them.

Cut your cookies and careful place them on your lined baking sheets. 
Using a large flat spatula will help when transferring larger cookies or delicate shapes into the baking sheets. 
Place the baking sheets in the refrigerator for 20 to 30 minutes.
Bake 8 to 10 minutes, or until golden.
Remove from oven and let the cookies rest for approx. 5 minutes before transferring them onto cooling racks.
Let your cookies cooled completely.
Dust with coating sugar or decorate with icing as desired.
You can also prepare your dough in advance, wrap the dough ball tightly with plastic wrap and freeze for up to 3 months. When ready to decorate, let your dough thaw overnight in the refrigerator before rolling it.
Happy baking!