EASTER MERINGUE BIRD NESTS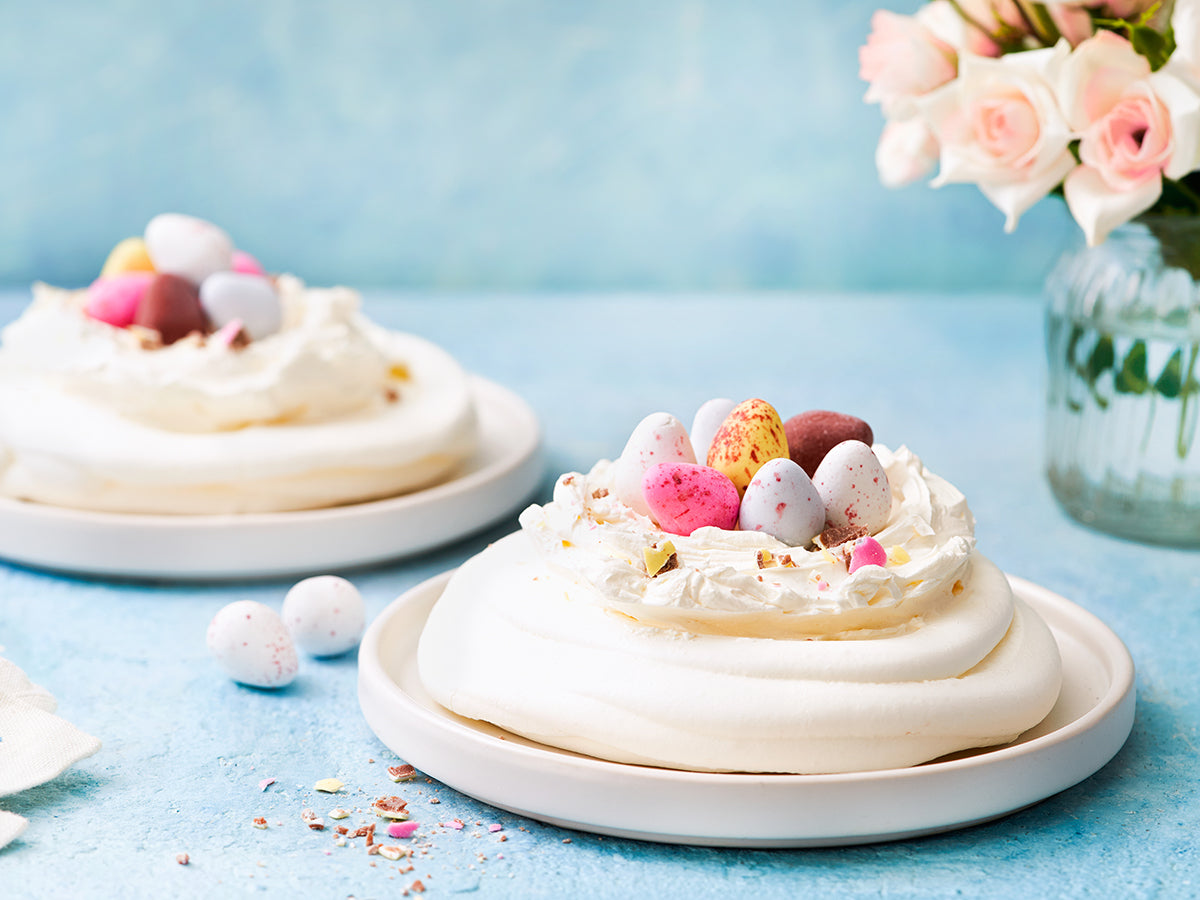 These adorable meringue nests are as delicious as they are pretty to look at. They are also often referred to as Easter Pavlovas. Most people believe that Pavlovas are traditional Russian desserts because of their name, but they in fact originate from either Australia or New Zeeland and were named after the famous Russian ballerina, Anna Pavlova, as a tribute to her talent during her tour of these two countries in the 1920s.
Light and refreshing, they are the perfect way to end your Easter brunch. You can serve them by themselves, or alongside a fresh berry coulis or fresh strawberries. You can also make smaller versions of these nests to top cupcakes or a larger nest to use as a cake topper. These meringue nests are super easy to make and very versatile. They will delight children and grown-ups alike and look super cute on your Easter table. The meringue nests and buttercream filling can both be prepared one day ahead, but you will need to wait until you are ready for dessert to assemble them as you do not want the meringue to become soggy.    
Ingredients:
For the Meringue Nests:
3 cups Granulated Sugar
2 cup boiling water
1 cup

Chefmaster

Deluxe Meringue Powder

1 tsp Vanilla Extract

(more if you desire a stronger flavor profile)
For the Buttercream Filling:
½ cup (1 stick) Unsalted Butter, cubed and softened

1 ½ cup Confectioners' Sugar, shifted

2 Tbsp Whole Milk, room temperature

1 ½ tsp Vanilla Extract*
For decoration:
Sugared Mini Chocolate Eggs Candies (Cadbury or similar)
*Note: you can leave your Buttercream unflavored if desired or replace vanilla by another liquid flavor such as Lemon extract. 
Tools & Utensils:
Measuring Cups & Spoons
Small Sauce Pan (or Hot Water Kettle)
Stand Mixer with both a Whisk and a Paddle attachment.
Sifter
Decorating Pastry Bag with coupler and large round tip (#12 or similar)
Rubber Band (or flat plastic bag clip)
Silicone Spatulas 
Small bowls 
Baking Sheets (2)
Parchment Paper
Tall wide Glass or small flower vase (optional)
Preparation:
Prepare and measure all your ingredients.
Heat oven to 250°F (225°F for convection oven).

 

Prepare your Meringue Nests (best to prepare the day before):
Put water to boil.
Add granulated sugar to the mixer bowl.

 

Pour boiling water on the top of your sugar and stir on lowest setting until fully dissolved.

 

Let mix cool off completely. During that time, line your baking sheets with parchment paper.
Once simple syrup is fully cooled, add your meringue powder.

 

Beat at medium speed for a few minutes, then high speed until high, stiff peaks form.

 

Mix in the vanilla flavor until well blended.

 

Attach the coupler and large round tip to your pastry bag.
Fold the top of the pastry bag down a few inches and use a spatula to carefully transfer white meringue into your bag.

 

It is easier to set your pastry bag inside a tall glass with the tip down and fold over the sides of the glass than to hold the bag with your hands.
Close your decorating bag by twisting the top and sealing with a strong rubber band or plastic bag clip.

Pipe flat white meringue circles about 3.5"-4" in diameter onto a paper lined baking sheet leaving approx. 1 inch in between each circle.

 

The easier way to create these bases for your nests is to pipe a tight spiral making sure there is no empty space in between each line of meringue or in the middle.

 

You should be able to pipe 6 base nests per baking sheets.

Once you are done piping all of your nest bases, go back and pipe a couple of rings on the top of each base to mimic the walls of the nest.

You might need to refill your bag more than once (unless you have large capacity professional fabric pastry bags at your disposal).

 

Bake for 45 to 50 minutes (oven times may vary). To finish baking let the cookies sit 1-2 hours inside oven without opening the door (or open oven door slightly and leave in the oven for 6-8 hours).

 

Let your meringue nests cooled completely and store in an airtight container (or cover tightly with plastic wrap and leave in the baking sheets).
Prepare your Buttercream Filling:
Cream butter using the paddle attachment on medium-high speed until fluffy and white (speed 6-8 approx.)
Gradually add Confectioners' Sugar (no more than ½ cup at the time) and continue beating on medium-high until fully incorporated.
Add Vanilla extract into your milk and mix with a spoon until evenly distributed.
Slowly pour Flavored Milk into mixer bowl and continue beating on medium-high until fully incorporated and smooth (approx. 3 to 5 minutes)
Assemble your Bird Nests (right before serving):
Spoon buttercream to slightly overfill the center or each nest. Use a teaspoon to gently create a circular shallow ditch in the center of the buttercream.

 

Fill each ditch with sugared chocolate egg candies.
Use candy crumbs from the bottom of the bag to sprinkle on the top of the buttercream ring (or crush a few egg candies)

 
Your beautiful Easter meringue nests are now ready to enjoy either by themselves or accompanied by fresh fruits or coulis.