MONSTER RICE KRISPIES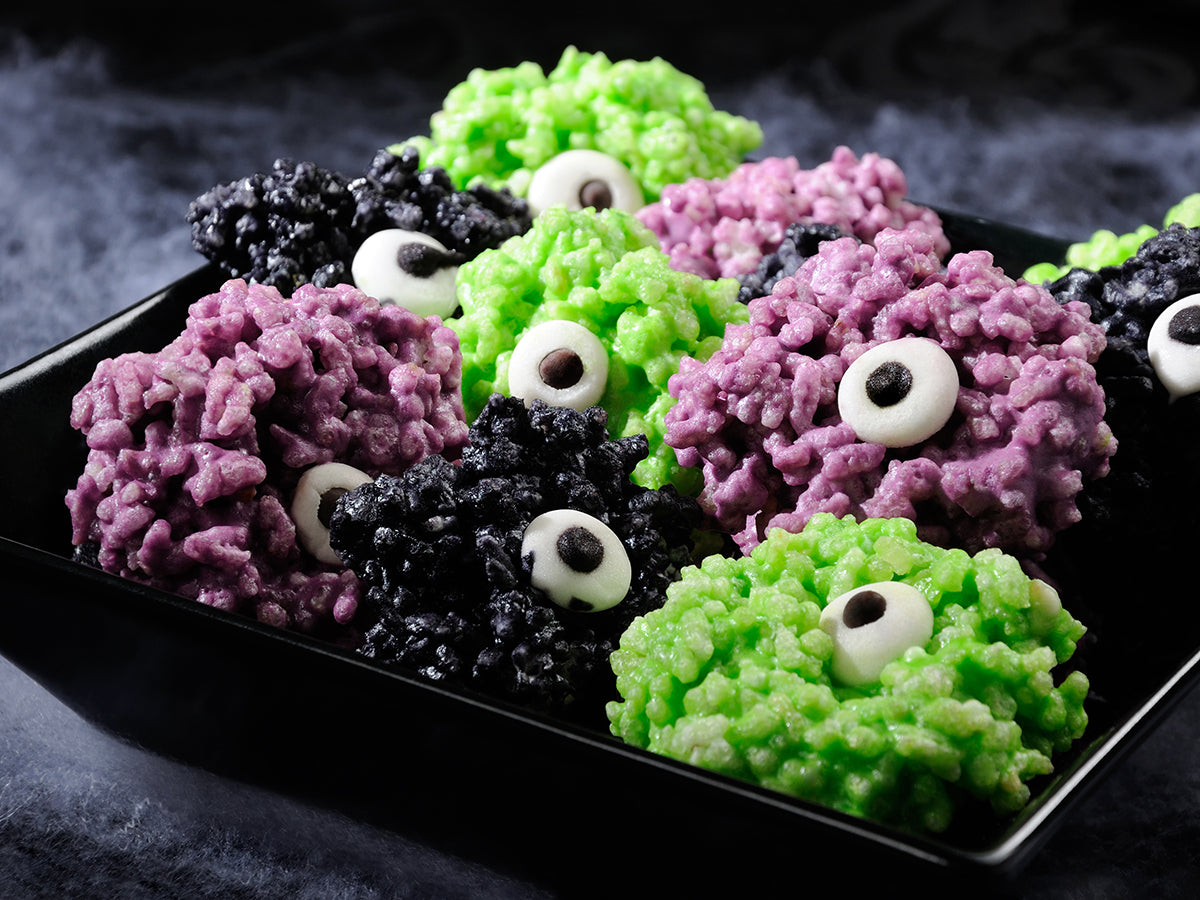 "Boo! I see you." shout these adorable Monster Rice Krispies. These colorful treats are super easy to make even with young children, so get your very own little Monsters in the kitchen and start baking!  
Ingredients:
6 cups Rice Krispies Cereals
1 bag of Large Marshmallows
¼ cup Butter
Chefmaster Liqua-Gel® food coloring (Diamond Black, Leaf Green & Purple)
Candy Eyes (or make your own candy eyes using one of our Royal Icing Recipe and Chefmaster Deluxe Meringue Powder)
Cooking Oil Spray
Tools & Utensils:
Bowls
Large Sauce Pan
3 Large Baking Sheets
Waxed Paper
Preparation:
Measure and prepare all of your ingredients.
Separate the Rice Krispies into 3 portions of 2 cups each.
Line
Melt the Butter in the pan over low heat. Add the marshmallows and stir until they are melted and well-combined with the butter.
Remove from heat.
Separate the Marshmallows mixture into 3 bowls.
Working quickly add a couple of drops of Chefmaster Liqua-Gel® food coloring into each bowl (one bowl per color) until you reach the desired shade.
Add 2 cups of Rice Krispies cereals into each bowl. Stir with a spatula to combine until they are all coated with the colored Marshmallow mixture.
Spray your hands with Cooking Spray periodically so the mixture does not stick to your hands (or rub butter on your hands).
While the mixture is still warm (but not too hot to touch), scoop a small amount of rice Krispies at the time (about 1 Tbsp), deposit on the wax paper and press down to make a small patty using your fingers. Add one or more eyeballs on each Rice Krispies treat.
Let them rest.
Once the treats are cooled, carefully remove them from the waxed paper and set them up on a plate for the entire family to enjoy.