ERNEST B. STRICKLAND – The "Sugar Salvage" of Cake Decorating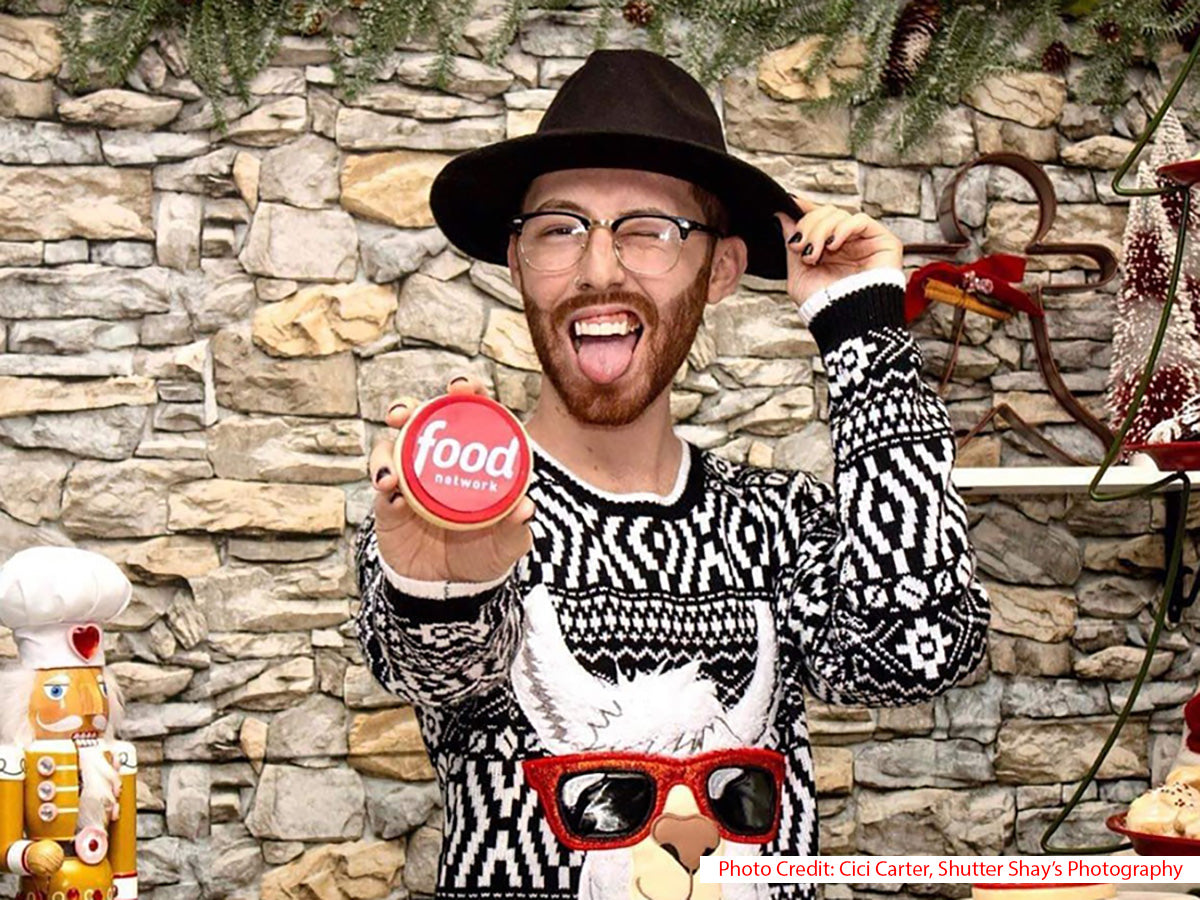 Born and raised in North Carolina, Ernest B. Strickland stumbled upon his career by chance. Initially learning the basics of baking and decorating cakes when he worked at a grocery store bakery, he furthered his knowledge and skills on his own to become a self-taught cake artist. At the young age of 21, he and his partner Justin Herring left their corporate jobs to open Sugar Art Custom Cakes and Sweets, in Lumberton, North Carolina. 
Ernest's aim at Sugar Art was to always give customers something different. The bakery has more than 350 flavors of cupcakes in its portfolio, more than 200 flavors of gourmet candy, and more than 25 chocolate dipped items, all homemade using top quality ingredients. These are in rotation throughout the year, and you will find on any given day 12 different choices of cupcakes, 8 flavors of gourmet candy, and a range of ready-made cakes available for purchase at any time.
But it is their custom cakes that have been getting so much attention with their creativity and colorful designs. Give Ernest an idea or a theme for your cake and he will turn it into edible art. Only a few months after opening, Sugar Art won the 2017 Best of Robeson - Best Bakery award by Robeson Living Magazine, and has now started attracting celebrity clientele. Ernest has created cakes for R&B artist K. Michelle, and Queens of RuPaul's Drag Race Season 10.  
True to his nickname, Ernest opened his own dessert shop, the "Sugar Salvage" in Lumberton, NC and attracted the attention of the Food Network producers. He was casted not once, but three times on the famous TV channel. Although he never won the grand prize, he was a finalist contestant in all three shows. First in 2018 on Season 8 of Halloween Wars, teaming up with pumpkin and sugar artists and competing against 5 other top cake artists to create the ultimate Halloween display. The second time was the following year, in 2019, when he teamed up with an assistant in the "Holiday Gingerbread Showdown". The third time was in 2021, his first solo appearance, when he had a chance to showcase his cookie decorating skills on Season 5 of Christmas Cookie Challenge.
When he is not baking, Ernest is teaching cake sessions at different colleges in his hometown or children's cake classes at the bakery. He also has a series of online sweets tutorials and taught his first hands on classes at The Ultimate Sugar Show in Atlanta. 
Ernest has always enjoy using Chefmaster food coloring for his creations and we had the opportunity to chat with him about his career, what inspires him, and about making dreams come true.
Chefmaster: What inspires you to bake every day? Where is your passion coming from?

Ernest B. Strickland: "I just love expressing myself, especially through art. Cakes and sweets have become the canvas for my art."


Chefmaster: What is your dream? Are you on track to achieve it?

Ernest B. Strickland: "I dream of sharing my art with people all over the world, through both exclusive clientele AND students. I dream of traveling the world, sharing my knowledge and experience with other artists. This dream is slowly but surely starting to come to life. I'm launching a website for other artists, offering various tutorials, and I'm actually teaching my first hands-on classes in a few weeks in Atlanta, I'm super excited! So this dream is starting to become a reality. I finally started putting myself out there in order to get this dream on track. As for what I said about sharing my art through exclusive clientele, I'm slowing starting to gain celebrity clients and their attention."


Chefmaster: What advice would you have for other hobbyist just starting out?

Ernest B. Strickland: "There are three pieces of advice I love to share.

I think the best advice I could give to other hobbyists just starting out, as cliché as it sounds, would be to never give up, as hard as it may get. Always give your all, no matter what the project is. You may not see the results or the benefits right then and there, but they'll come. "The day you plant the seed is not the day you eat the fruit". You've got to put in the hard work, the sacrifices, the long hours, the stress, the tears, the pain, all of it… even when you don't feel like it.

I'd also say, a more "physical" piece of advice would be to be resourceful. I think that is one of the strongest skills you can acquire and teach yourself until it's second nature. Being resourceful is a great strength in this industry, and in the world.

Lastly, always be willing to listen and learn. No one is perfect, and no one is ever exactly where they want to be (we're on own worst critics), but remaining humble and willing to listen will take you places and will help you develop your craft! Never become arrogant and think there's nothing to be learned."
You can follow Ernest on Instagram @erneststrickland or @officialsugarsavage.
Thanks to Ernest for taking the time to share his passion with us. To be featured in our Baker's Spotlight blog and IG, contact us at chefmasterofficial@gmail.com.