QUICK AND EASY DECORATING WITH EDIBLE FOOD MARKERS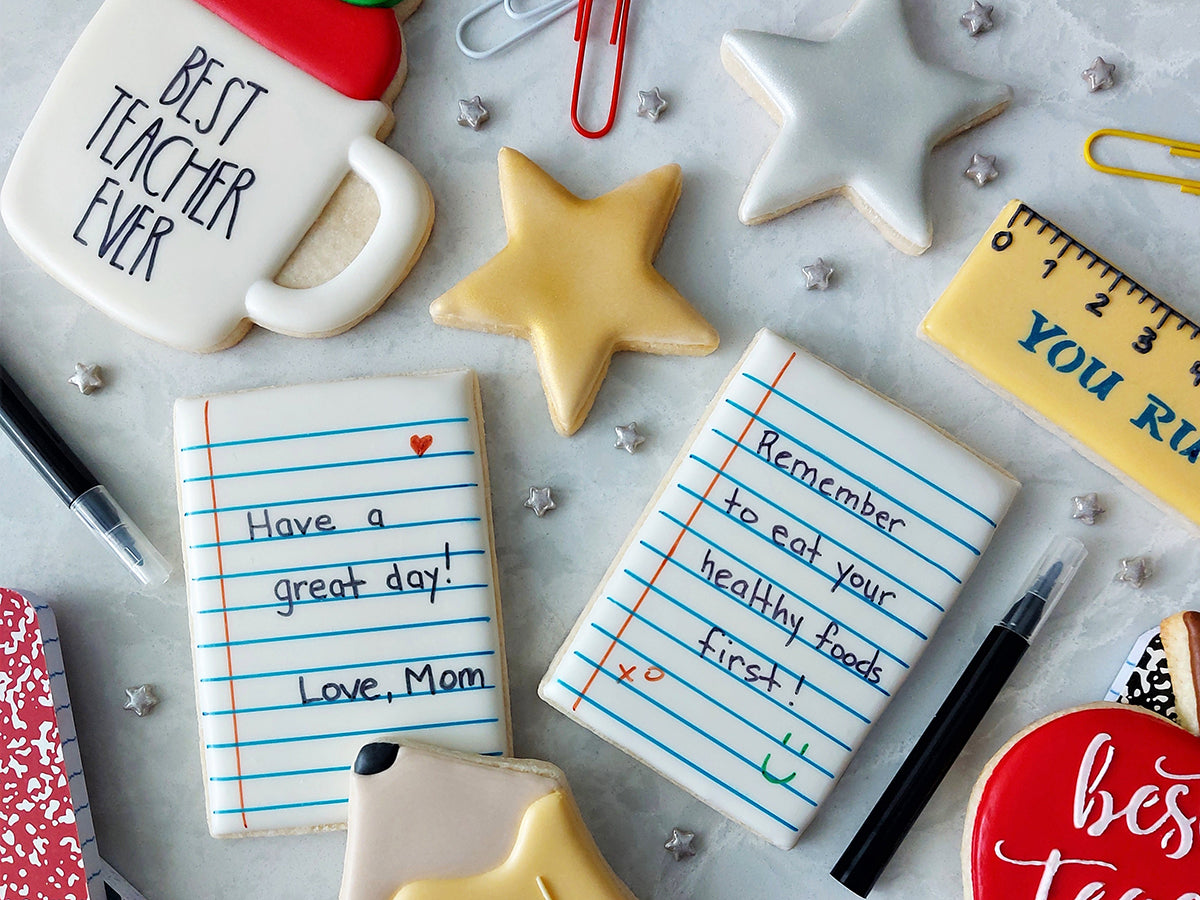 Every cookie or cake decorator should have a set of dual-tip edible food markers in their tool kit. Those markers are great to add small details on cookies (such as eye, eyelashes, buttons, stitches…), write names or even just to use the top of your baked good as a blank canvas to express your artistic talent. Edible food color markers are also a great time saver when prepping for a cookie decorating activity. Just prepare some royal icing, ice some cookies white and let them fully dry overnight. The next day you will simply need to set your cookies on a table with a few packs of edible food color pens and let your guests express their creativity absolutely mess-free. Although the look of a painted or drown on cookie is different from one decorated with royal icing, they are still very cute and who would say no to very little prep time and clean-up time? This is extremely true when you need to supervise an activity with younger children. Give them a white cookie and let them doodle their heart away. 



A few tips to keep in mind when decorating with edible food markers:
Edible food markers, just as regular markers, come with various thickness of tips. The most popular ones are thin, medium and thick. You can sometimes encounter some ultra-fine tips too. Make sure that you select the right size tip for your project. Thin tips for fine lines vs thick tips for filling in and coloring. Some edible food markers, such as the ones offered by Chefmaster, have dual tips. With one thin tip on one side and a thick tip on the other side you only need to purchase one pack of edible food pens to cover most (if not all) of your needs.
Once you add one color with a food pen you need to let it dry before overlapping another color on the top or right next to it. Because these markers use actual food coloring you need to give them 45 seconds or so to dry.
When drawing with edible food markers hold your pens in a way that your hand does not rub on the cookie to avoid smudging your design. 
If decorating the top of a delicate surface, such as a French macaron shell or frozen buttercream frosting, avoid putting too much pressure on the tip of your pen. Press the marker nip on a piece of paper towel to let the food coloring flow to the tip and draw on the fragile surface with very light strokes.
Younger kids will have a blast with edible food coloring markers, but you need to be ready to clean their hands thoroughly with soap and warm water as they will most certainly not respect those pieces of advice (or simply have them wear gloves if they are willing to wear them).
As with all food products it is important to check the origin of your food coloring pens. Most markers are manufactured overseas using low quality ink not following the US Federal Drugs Administration standards. You want to look for decorating pens that are safe for consumption, such as Chefmaster Edible Food Markers. Our pens are filled and assembled by hand in sunny Southern California using the same high quality made in America food coloring you have learned to trust over the years.
Chefmaster Edible Food Markers are available either as a pack of 2 Black edible food markers (by far the most popular color) or as a pack of 10 assorted colors. Add a pack to your cart now and let your inner artist shine!