WITCH FINGER COOKIES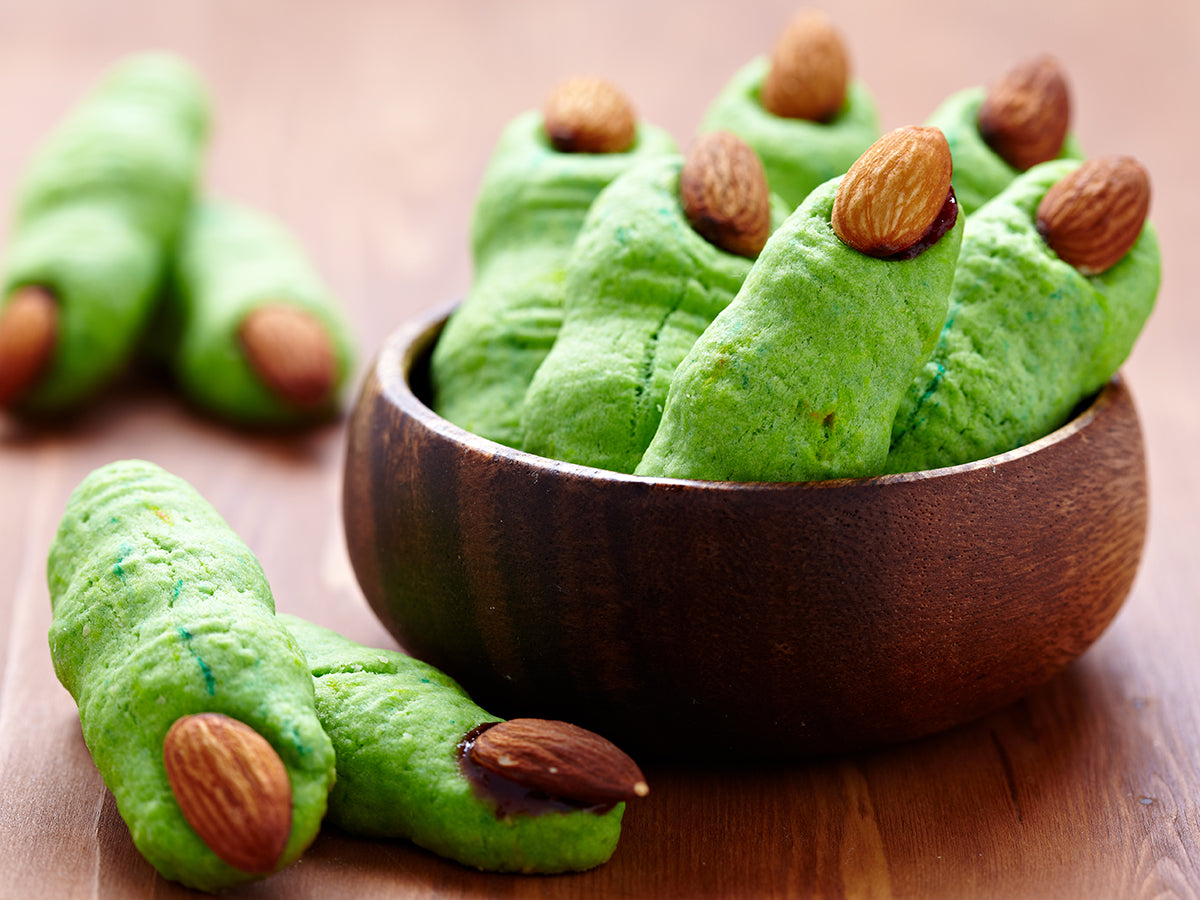 No need to be skilled in Witchcraft to make these shortbread-type Witch Finger Cookies. Easy to make and very colorful, they will delight the entire family this Halloween season. 
Ingredients:
2 ¾ cups All Purpose Flour
1 ¼ cup Powdered Sugar
8 oz Unsalted Butter (2 sticks), softened
1 Large Egg
1 tsp baking powder
1 tsp Salt
1 tsp Almond Extract
1 tsp Pure Vanilla Extract
Chefmaster Liqua-Gel® Leaf Green Food Coloring
Almonds (or Sliced Almonds)
Seedless Strawberry Jam (or Strawberry Fruit Spread)
Tools & Utensils:
Measuring Cups
Bowls
Stand Mixer with a whisk
Baking Sheets
Parchment Paper
Tipless decorating Pastry Bag or small Zip-lock Bag.
Preparation:
Take your sticks of butter out of the refrigerator approx. an hour prior to starting baking to let it softened at room temperature.

Prepare and measure your ingredients.

In a large bowl combine flour, baking powder and salt.

In a small bowl combine Vanilla Extract, Almond Extract and 4 to 5 drops of Chefmaster Liqua-Gel® Leaf Green Food Coloring.

Cut butter in small pieces and add to the bowl of your stand mixer with the Powdered Sugar. Beat on medium/low speed until pale and fluffy (speed #2 to #4 depending on your brand of mixer).

Add egg to bowl and continue mixing until fully incorporated and fluffy. 

Add colored liquid mixture to mixer bowl and continue mixing on medium/low until the color is evenly incorporated.

Reduce mixer speed to low (speed #1 to #2 depending in your brand of mixer). Add Flour mixture ½ cup to ¾ cup at the time until well-combined.
If a stronger shade of green is desired you can add a few more drops of Chefmaster Liqua-Gel® Leaf Green Food Coloring at that time. Beat only long enough for the color to be evenly distributed. Do not overmix your dough.
Wrap bowl tightly and refrigerate for at least 1 hour and up to 2 days. It is important for the dough to be very cold so it will not spread during baking (it will also be easier to shape).
While the dough is getting cold:
Line 2 baking sheets with parchment paper.

Fill a small decorating pastry bag or small Zip-lock Bag with approx. ½ cup Strawberry Jam.

Preheat oven to 325°F.
Once the dough is cold to the touch, use your fingers to scoop about 1 tbsp of dough and roll between your fingers to create first a log and then a finger shape by pressing more in two locations to create knuckles and give the cookies a finger shape.
Carefully set the finger cookie on your baking sheet. Repeat with the other cookies leaving 1-2 inches in between each cookie to allow proper baking.
Press one Almond (or one Sliced Almond) at one end of each cookie.
Use a toothpick or a small pointy knife to cut 2 to 3 lines on the top of each knuckle on all the cookies.
If the dough is getting warmer while you are shaping your cookies do not hesitate to put half of the dough in the refrigerator or to refrigerate any finished cookie trays while you work on the rest of the cookies. If you let the dough or the cookies come back to room temperature they will spread and loose some of their shape during baking due to the high ratio of butter in this recipe.
 Bake for 20-25 minutes in a convection oven. 
In a traditional oven, please turn the trays half-way through baking and switch the bottom tray and the top tray to make sure all cookies are baking uniformly. You might need to bake your cookies an additional 2-5 minutes to compensate for the loss of heat while opening the oven.
Let the cookies cool off for a few minutes until just warm enough to handle.
Cut a small hole at the tip of your bag, just large enough for you to squeeze the Strawberry Jam.
Carefully lift the almond slice from the cookie and squeeze a small dab of Jam. Press the almond back into its socket on the cookie.
Repeat with each cookie.
For even more ghoulish deliciousness, you can easily prepare a red fruits coulis by blending a bag of frozen strawberry or red fruits into a Smoothie blender and create a bloody dip for your cookies. Enjoy!