RED VELVET HOLIDAY CAKE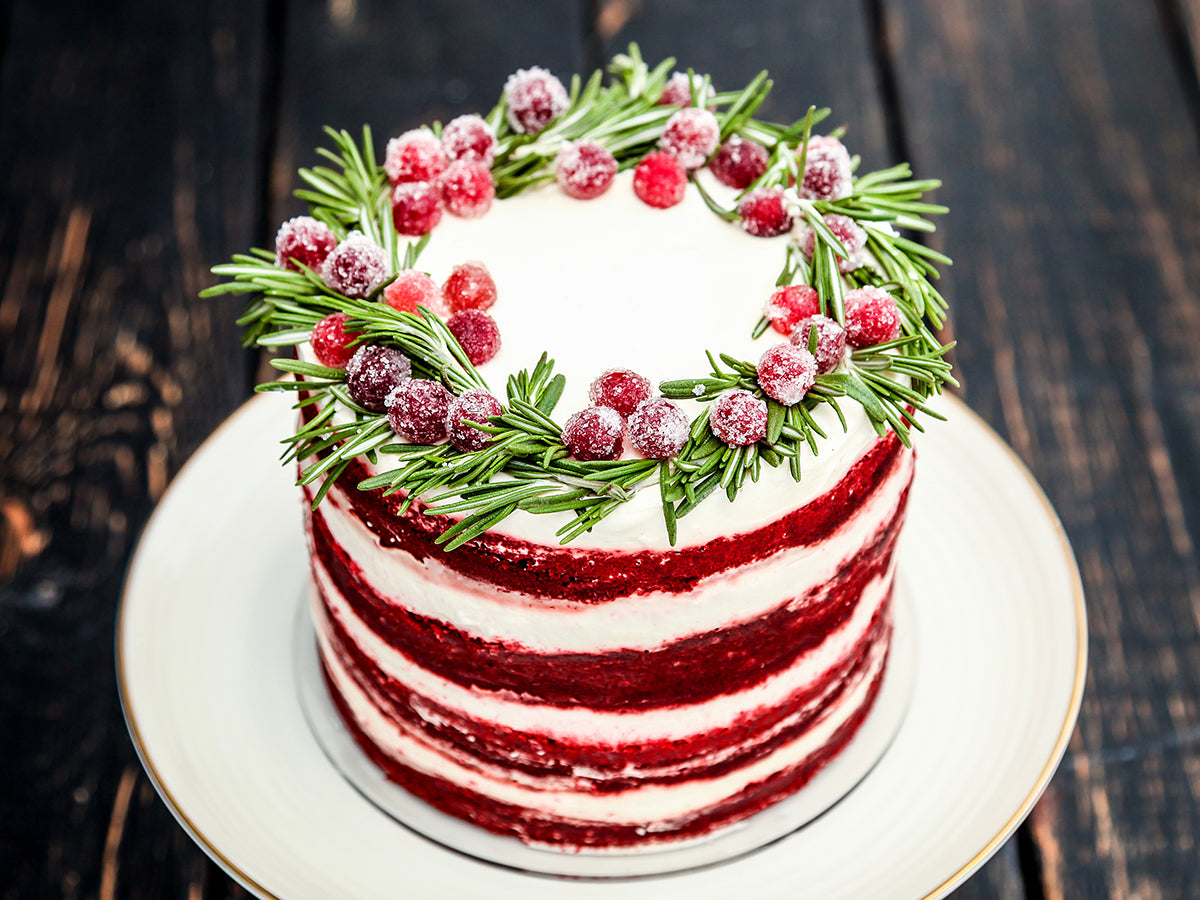 This gorgeous Red Velvet naked cake is perfect for your holiday gathering and way easier to make than it looks. 


Ingredients:

For the Cake:

2 ½ cups All-Purpose Flour (plus more, as needed)

1 ½ cup Granulated Sugar

1 ½ cup Vegetable Oil

1 cup Buttermilk

2 eggs

2 Tbsp Unsweetened Dutch Processed Cocoa Powder (or Baking Cocoa)

1 Tbsp Baking Powder

1 tsp Salt

1 tsp Vanilla Extract

1 tsp Chefmaster Super Red Liqua-Gel® Food Coloring (plus more, as needed)

Butter (enough to grease 2 cake pans)

For the Frosting:

½ cup All-Purpose Flour

1 ½ cup Whole Milk

1 ½ cup Granulated Sugar

1 ½ cup (3 sticks) Butter, cubed and softened

1 Tbsp Vanilla Extract

For the Decoration:

1 cups Water

2 cups Granulated Sugar

1 cup Fresh Cranberries, washed and pat dried

Fresh Rosemary Sprigs, washed, pat dried and cut into 2 to 3-inch lenght
Tools & Utensils:
Measuring Cups & Spoons
Stand Mixer with paddle attachment.
Bowls
Hand Whisk (or fork)
Spatulas
2 – 9-inch round cake pans
Cake Slicer (or a large kitchen knife with a blade longer than 9-inch) 
Cake Tester (or toothpick)
Cooling Rack
Medium Saucepan
Small Saucepan
Baking Pan
Slotted Spoon
10-inch cake circle (or flat plate)
Icing Spatula (or large cake scraper)
Cake Turntable (optional, but so much easier if you have one)
Preparation:
Prepare and measure all your ingredients.

Grease bottoms and sides of your cake pans with butter and flour lightly.
You can also use a Baking Spray with flour instead if you have some available.
Preheat oven to 375°F.
Add all your dry ingredients to the bowl of your stand mixer (flour, sugar, baking powder, salt and cocoa powder). Stir until well combined.
In a separate bowl, beat your eggs lightly with a hand whisk or a fork, just enough to break the yolks and have a smooth evenly colored egg mixture. 
Add your liquid ingredients to your eggs and stir until well combined (oil, buttermilk, vanilla extract, food coloring).
Pour your red egg mixture into your dry ingredients and mix on low until well combined and the color if evenly distributed.
At this stage you might need to add some more red food coloring if the mixture does not look red enough. Indeed, some brands of Dutch processed cocoa powder are darker than other and might required a little more color.
Pour half of the batter into each greased cake pans.
Bake for 25 to 35 minutes or until a cake tester or toothpick comes out clean.
Remove from oven and let the cakes cool for about 10 minutes before carefully flipping them over a cooking rack.
Let the cakes cool completely (about 1 hour).
In a medium saucepan, mix flour and milk with a whisk until smooth.

Heat over medium heat stirring constantly until mixture is very thick. Do not let the mixture boil.

Remove from heat and let the mixture cool for approx. 10 minutes.

Add cubed and softened butter to the bowl of your stand mixer. Stir on low until smooth.

Add sugar and cream sugar and butter together on medium speed until light and fluffy.

Gradually add flour mixture and beat on high speed until well combined and smooth.

Add vanilla and continue mixing until well incorporated. 
Prepare a simple syrup by dissolving 1 cup of sugar into 1 cup of water in a small saucepan over medium heat, stirring constantly until the sugar is fully dissolved.

Wait until mixture comes to a simmer (approx. 6 to 7 minutes) and immediately remove from heat. Do not let the mixture boil or you will have to start over.  

Add fresh cranberries to the hot syrup and set aside to cool.

Once cooled enough, put sauce pan with cranberry mixture into the refrigerator for at least 1 hour.

Evenly spread 1 cup of granulated sugar into a baking pan.

Use a slotted spoon to scoop your cold cranberries out of the syrup and transfer into the baking pan.

Gently roll and shake the baking pans so cranberries are fully coated with sugar on all sides.

Set aside.
Your cakes should be relatively flat as they were flipped over on the cooling rack. If not, gently cut the rounded tip of the cakes with your cake slicer (or your large kitchen knife) to create a flat surface.

Slice each cake in 2 equal parts horizontally using your cake slicer (or large kitchen knife).

Put one cake bottom slice on a cake circle.

Set your cake circle in the center of your cake turntable. 
If you do not have a cake turntable try to raise your cake by setting it on a large can of tomatoes for example. 
Spoon about ¼ of your frosting to cover the top of your cake and smooth evenly with your icing spatula. 
Add a top cake slice on top of your frosting and press down slightly. You want to press just enough for the frosting to start squeezing out and the cake layer you added is really flat.
Spoon another ¼ of your frosting over the top of your second cake layer and smooth evenly.
Add the second top cake slice on top of your second layer of frosting and press down slightly making sure the cake layer is flat.
Spoon another ¼ of your frosting over the top of your third cake layer and smooth evenly.
Flip the remaining bottom cake slice so the flatter side is facing up. Add on the top of the third layer of frosting and press down slightly. 
Make sure that your layer is flat and your cake is not tilting. It is time to readjust your layers if needed. 
Once you checked that all your layers are flat, spoon the leftover icing on the top of your cake and smooth out evenly. 
Slowly turn cake and flatten the icing on the sides with your icing spatula (or large bench scraper).
Continue turning the cakes and smoothing up the sides until the frosting is flat on all sides.
Garnish the top of the cake with pieces of Rosemary Sprigs along the outer edges to mimic a wreath. 
Carefully grab one sugared cranberry at a time and set on top of Rosemary by cluster of 3 to mimic holy berries.
Store your cake in the refrigerator for at least 2 hours before serving. The colder the cake the easier it would be to slice.
Enjoy!