GREEN HAMBURGER BUNS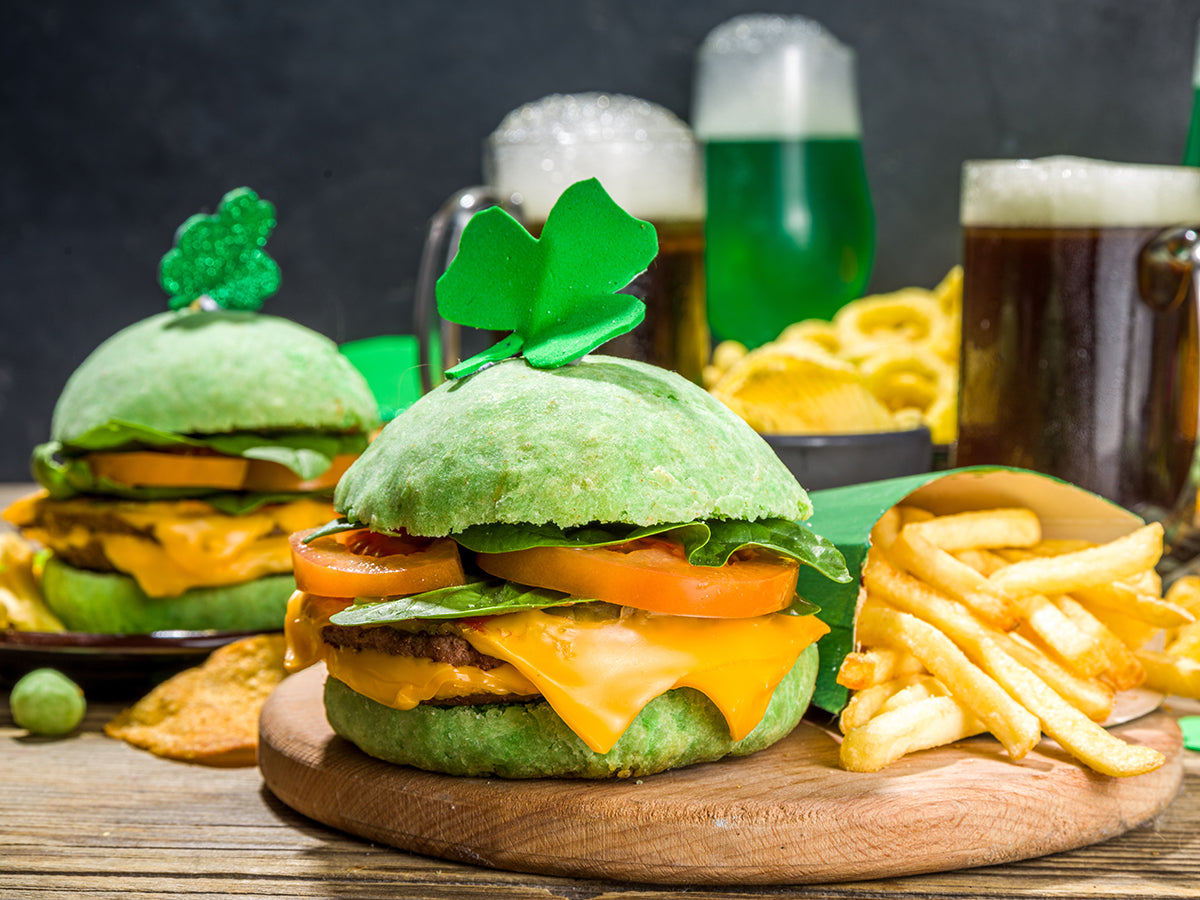 St Patrick's Day is all about the color green. What goes better with Green Beer than a Green Hamburger?  It is super easy to turn your favorite hamburger bun into and Irish Burger using Chefmaster Green Edible Color Spray or an airbrush and Chefmaster Natural Green Airbrush coloring for an all-natural version. This technique also works with any other colors, so why not Blue and Red burger buns for 4th of July or Orange and Purple one for Halloween?



Ingredients:
Seedless Burger Buns of your choice (if you pick a bun with seeds, please be aware that the seeds will also be colored)
Chefmaster Green Edible Color Spray or Chefmaster Natural Green Airbrush Color.
Tools & Utensils:
Baking Sheet
Wide Low Glass
Burger Spatula
Cooling Rack
Plastic Tablecloth
Preparation:
Protect your work surface with a plastic table cloth.

Position the glass bottom side up in the center of the baking sheet.

Place the top half of a burger bun on the top of the glass.

Shake the Green Edible Spray Can really well and spray evenly the outside of the bun with back-and-forth motions on all side. 
Spray about 6 to 8" away from the bun and do not oversaturate with color or the bun will become mushy.
Let dry for about 45 seconds before carefully lifting the bun half with a burger spatula and putting to dry on the cooling rack.
Repeat with the bottom half of the bun placing it with the crust part facing up.
Repeat those steps for as many buns as you want.
Note: if using an airbrush gun and Chefmaster Natural Green Airbrush color, follow your equipment manufacturer instructions.
Let your burger buns dry for about an hour before handling. May the luck of the Irish be with you and the Grill Master in your household!