CHOCOLATE BUTTERCREAM ICING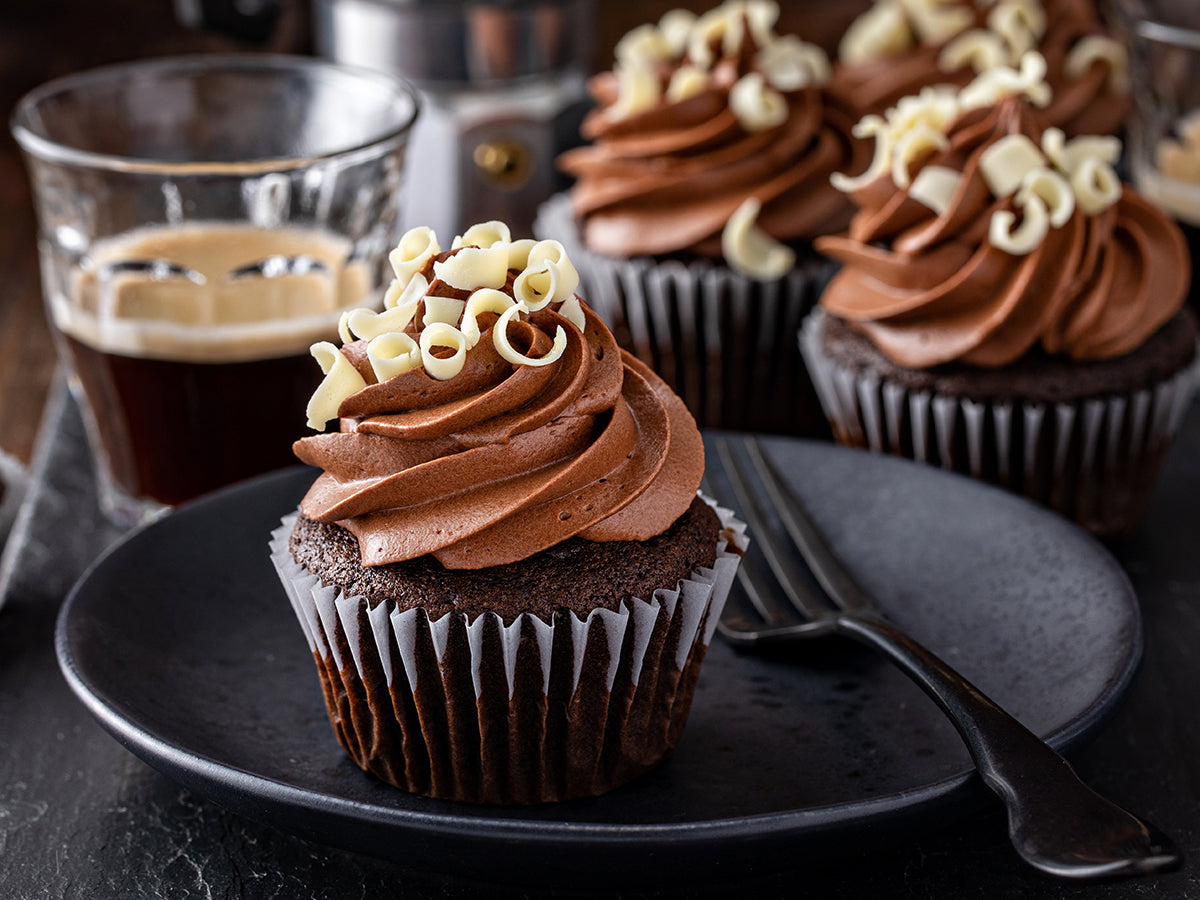 When decorating a cake or a cookie with Buttercream, decorators often struggle with managing to create rich black icing colors or deep reds without thinning out their icing too much to remain stable and/or experiencing color bleeds. The solution to this problem is simple: add food coloring to a Chocolate Buttercream base rather than a White Buttercream base. Indeed, starting with a darker base allows you to use less food coloring and having darker, richer colors. It works especially well for Black, Navy Blue, Deep Red and Jewel Purple. We recommend using Chefmaster Gel food colorings rather than Liqua-Gel® whenever possible to control the amount of liquid added to your Buttercream. 
Black and Red dyes are also often tangier than other food dyes and can leave a slight aftertaste when used in excess. Having a chocolate flavored backbone for your Buttercream is helping offsetting and masking this bitterness. This is especially true with our delicious Chocolate Buttercream frosting recipe, which Chocolate Flavor is further enhanced by a dash of Expresso Powder.


Ingredients:
7 cups Powdered Sugar, shifted
2 cups (4 sticks) Unsalted Butter, softened
1 cup Unsweetened Cocoa Powder
8 Tbsp Heavy Cream (plus more as needed)
2 tsp Vanilla Extract
½ tsp Expresso Powder
½ tsp Salt
Chefmaster Gel food coloring (optional)
Tools & Utensils:
Measuring Cups & Spoons
Bowls
Flour Shifter
Stand Mixer with a paddle attachment
Spatulas
Knife
Decorating pastry bags
Preparation:
Cut your butter into small squares (about ½ to ¾ inch) and set aside to soften.

Prepare and measure the rest of your ingredients.

Cream butter using the paddle attachment on medium-high speed until fluffy and white (speed 6 to 8 approx.)

Gradually add half of the Powdered Sugar (approx. 3 ½ cups) and continue beating on medium-high until fully incorporated.

Add Cocoa Powder, Expresso Powder and Salt. Continue mixing until well-combined and smooth.

Slowly add Heavy Cream and Vanilla Extract until fully incorporated and smooth.

Add the remaining 3 ½ cups of Powdered Sugar and continue beating on medium-high until smooth and well-combined.
If your icing is too stiff add more heavy cream (approx. 1 Tbsp at the time). If your icing is too soft add more Powdered Sugar (also 1 Tbsp at the time).
Remove bowl from stand mixer.
At this time, you can add Chefmaster Gel Food coloring of your choice if desired and stir slowly with a spatula until the color is evenly distributed and the icing is smooth. 
Use immediately or transfer to an airtight container or decorating pastry bags leaving as little air as possible in contact with your icing to keep a crust from forming. If your container is too big, use plastic wrap to cover the surface of your Buttercream, smoothing out any air bubbles between your icing and the film). 
You can keep your Chocolate Buttercream icing on the counter in a cool, dry room if needed, but it's always better to refrigerate or freeze your frosting if you have the possibility to do so. Just allow sufficient time for the frosting to return to room temperature before your start decorating.