RAINBOW SLIME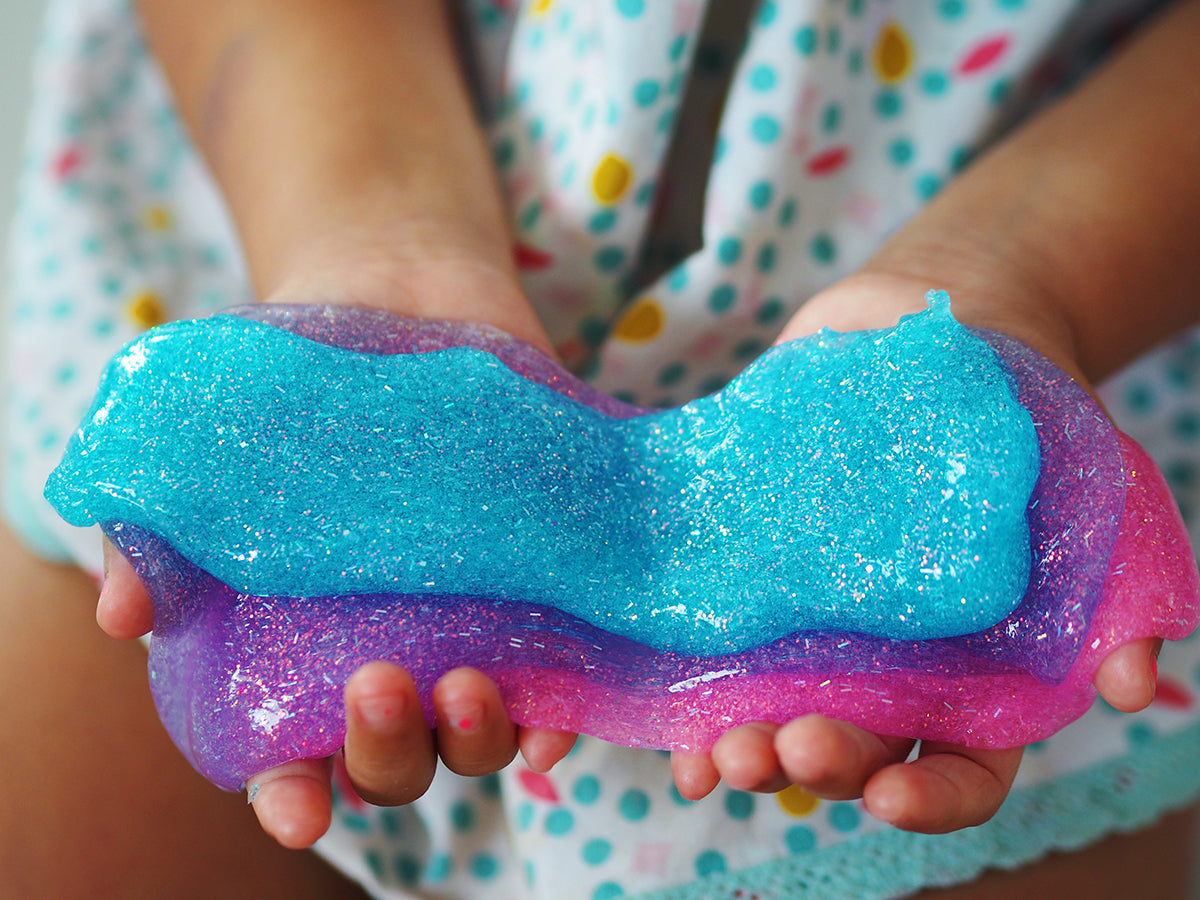 If you were a kid in the 1980s you remember the overly popular little green trash can filled with gooey green slime and how fun it was to play with it. Slime made an incredible come back about 10 years ago and have since been one of kids' favorite craft activities with so many options to choose from (colorful slime, glitter slime, glow in the dark slime…). This is a great sensory experience for children's, tweens and even adults. You will find our favorite recipe below. If you have toddlers or children under 5 years old at home check out our Edible Slime Recipe for hours of safe fun.
What's needed:
1 ½ cup School Glue (about 6 regular size bottles) *
1 ½ cup Laundry Starch (such as Sta-Flo starch)
1 ½ cup Water
Chefmaster 6-Color Neon Liqua-Gel® Kit
Glitter, confetti, or sequins (optional)
6 Bowls
6 Mixing Spoons
Measuring Cup
Baking Tray
Ziplock bags or small containers.
Disposable Gloves (optional)
*Note: Clear school glue is best for vibrant shades, especially if you are planning on using glitters. White school glue will provide more of an opalescent look to your slime.
How-to:
In each bowl, mix ¼ cup School glue and ¼ cup Water until well-blended.
Add a few drops of food coloring (1 color per bowl) and continue mixing until you reach the shade you desire.
Add any embellishment such as glitter or sequins at this time.
Add ¼ cup Laundry Starch in each bowl, stirring as the mixture forms a blob.
Knead the slime with your hands for several minutes until it develops the desired elasticity (you can wear gloves if you do not want to get your hands dirty).
Stretch out each color of slime into a long strand and place side by side on the baking sheet.
Roll the colors together to make a rainbow slime.
Cut the roll in portions about the size of your containers (or about the size of a tennis ball if putting in zip lock bags).
When not in use store the slime balls into resealable containers (the slide should fill the container up to the lid) or in individual zip-lock bags making sure to squeeze out as much air as possible before sealing the bag.
Slime can be kept in the refrigerator or in airtight containers at room temperature for up to a few weeks.
If you have more than one child, we recommend writing the name of each child on the containers so they do not share the same slime. It is important that anyone who handles the slime wash and dry their hands thoroughly prior to touching it to avoid transferring any bacteria to the slime. Avoid wearing hand lotion when playing with slime as some ingredients in the lotion might cause the slime to break down.
This beautiful rainbow slime will provide hours of fun sensory play and distraction and the experience will be super fun to repeat once it is time to create another batch. Use your imagination to create different versions of this slime. They make great party favors or homemade gifts.
Adult supervision recommended.