EDIBLE SLIME RECIPE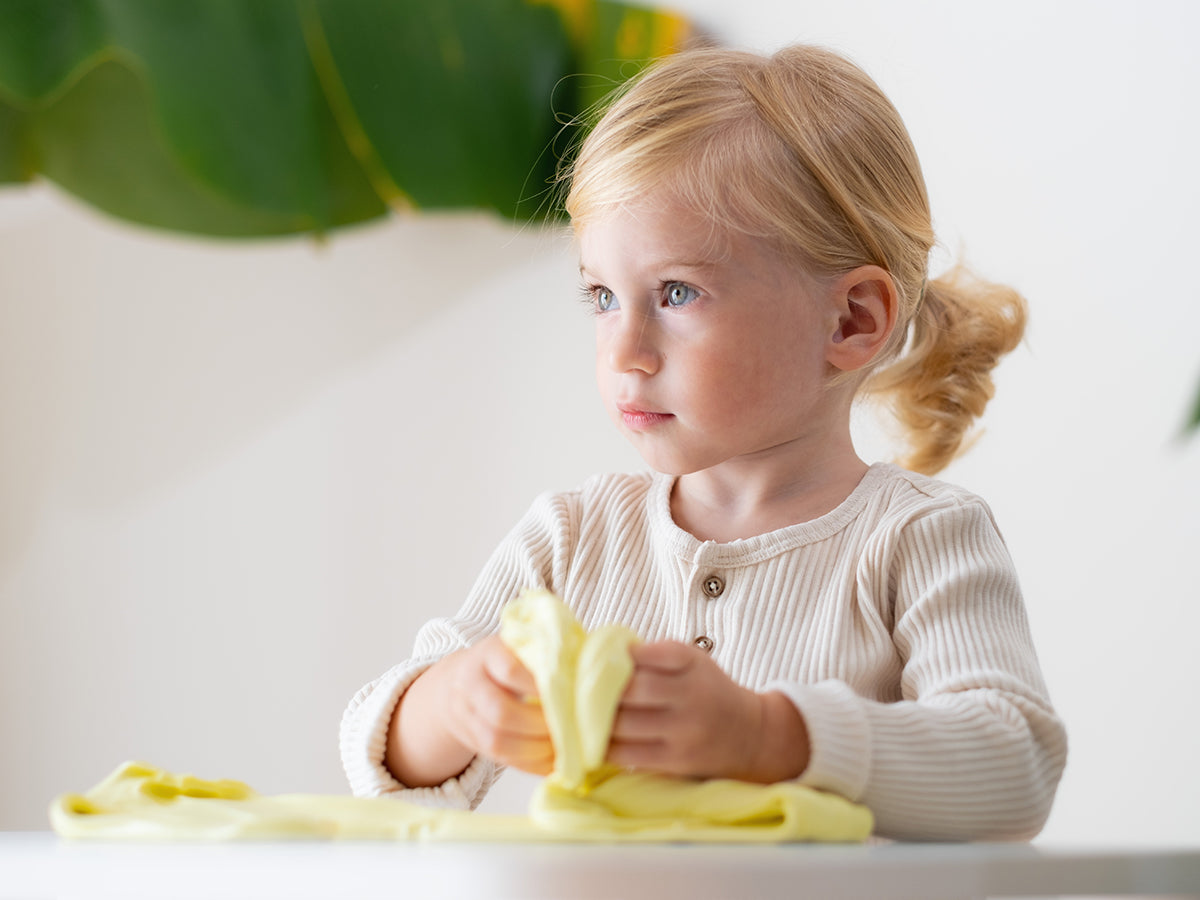 Making slime is such a fun tactile and sensory experience, but usually not recommended for children under 5 due to the use of Laundry Starch, Laundry Detergent, School Glue or even Borax depending on the recipe. No one likes making a mess more, playing with their hands and putting things in their mouth more than toddlers. We did not want to leave them out of this super fun activity and came up with this super safe edible slime recipe.
What's needed:
12 Jumbo Marshmallows (or 24 large Marshmallows)
2 Tbsp Vegetable Oil (+ more to coat your hands)
1 to 1 ½ Tbsp Corn Starch
Chefmaster Liqua-Gel® Natural 4-Color Kit
Microwave Safe Bowl
Microwave
1 Mixing Spoon
Measuring Spoons
Baking Tray
Waxed paper
Ziplock bags or small containers.
How-to:
Put the Marshmallows and Vegetable Oil in the microwave safe bowl.
Heat on high for 30 seconds. Marshmallows and bowl might be hot. Use a spoon to check if your marshmallows are melted. Heat for another 10 to 30 seconds (depending on your microwave) or until the Marshmallows because deflated and their center are gooey.

Be careful not to overheat your marshmallows as they will easily burn.
Make sure to check the temperature of the Marshmallow mixture and the bowl before letting your child help so they do not burn themselves.

Add ½ Tbsp Corn Starch at the time in the bowl and mix with a spoon until the desired consistency is reached. The more Corn Starch you dd the stiffer your edible slime will become.

 

Once the edible slime if cool enough to handle, pour it in a baking sheet lined with waxed paper.

 

Coat your hands and the hands of your child with a light layer of cooking oil so the edible slime do not stick too much on your fingers.
Press slightly with your finger in the middle of the slime to make a hole approx. ½ inch deep. Add a few drops of Chefmaster Natural food coloring in the hole.

 

Fold the lime over the food coloring and let your toddler knead the edible marshmallow slime mixture until the color is well blended.

 

Repeat with another color if you want a marble effect or a different color.
When not in use store the slime balls into resealable containers (the slide should fill the container up to the lid) or in individual zip-lock bags making sure to squeeze out as much air as possible before sealing the bag.

 
If you have more than one child, we recommend writing the name of each child on the containers so they do not share the same slime. It is important that anyone who handles the slime wash and dry their hands thoroughly prior to touching it to avoid transferring any bacteria to the slime. 
This delicious edible slime will provide hours of fun safe sensory play and will last for a few days.
Adult supervision required.