SNOWMAN MARSHMALLOW POPS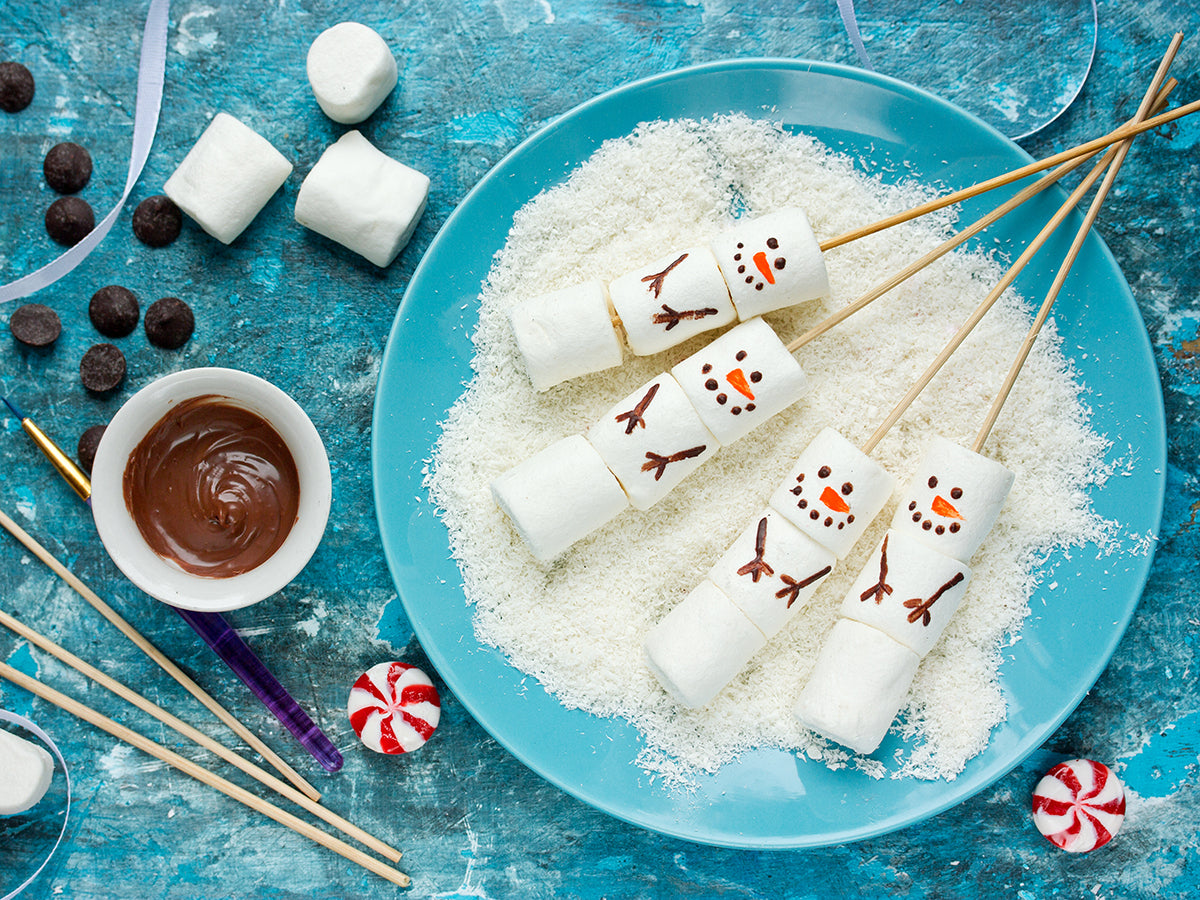 Sipping on a warm cup of Hot Cocoa on a cold Winter Day is not only delicious, but bringing warmth, comfort, and the spirit of the season. Having a Hot Cocoa bar ready for all your family members to enjoy after playing in the snow, during a Holiday movie marathon or a winter themed Birthday party is also great fun! Marshmallows are often associated to S'mores in the summer and Hot Cocoa in the wintertime. Take this tradition to the next level by preparing some adorable Snowman Marshmallow Pops to enjoy with your next cup of Hot Chocolate. Those are super easy to make thanks to our Chefmaster Edible Food Coloring pens and a fun activity for young children who will be beaming with pride when gifting the treat they made or enjoying them with their family. So, grab a bag of marshmallows, some wooden kebob dowels and your pack of Chefmaster Edible Food Coloring pens and let's build a snowman or two!



Ingredients:
1 bag of Large Marshmallow
1 pack of 10 Chefmaster Edible Food Coloring pens
Tools & Utensils:
1 pack Wooden Kebab Dowels
Preparation:
Gently push the pointy end of the Kebab dowel into 1 marshmallow. Move the marshmallow about 4 to 5 inches up from the tip (or move it high enough that you can fit 2 more marshmallows under the first one depending on the size of your marshmallows). 

Insert a second and third marshmallow on each wooden dowel making sure the dowel is not sticking out from the last marshmallow.

Repeat until you run out of marshmallows.

Use your brown edible marker and orange edible marker from your pack of 12 assorted Chefmaster Edible Food Coloring Pens to draw faces and arms on your snowmen.

Set aside until ready to use.
You can use these adorable snowmen to add some whimsy to your next Hot Cocoa bar or wrap them in clear cellophane treat bags to spread some winter cheers to friends and families. These fun marshmallow snowmen also make for a fun and inexpensive party favors for school or other youth group holiday gift exchanges.