BAKED PUMPKIN DONUTS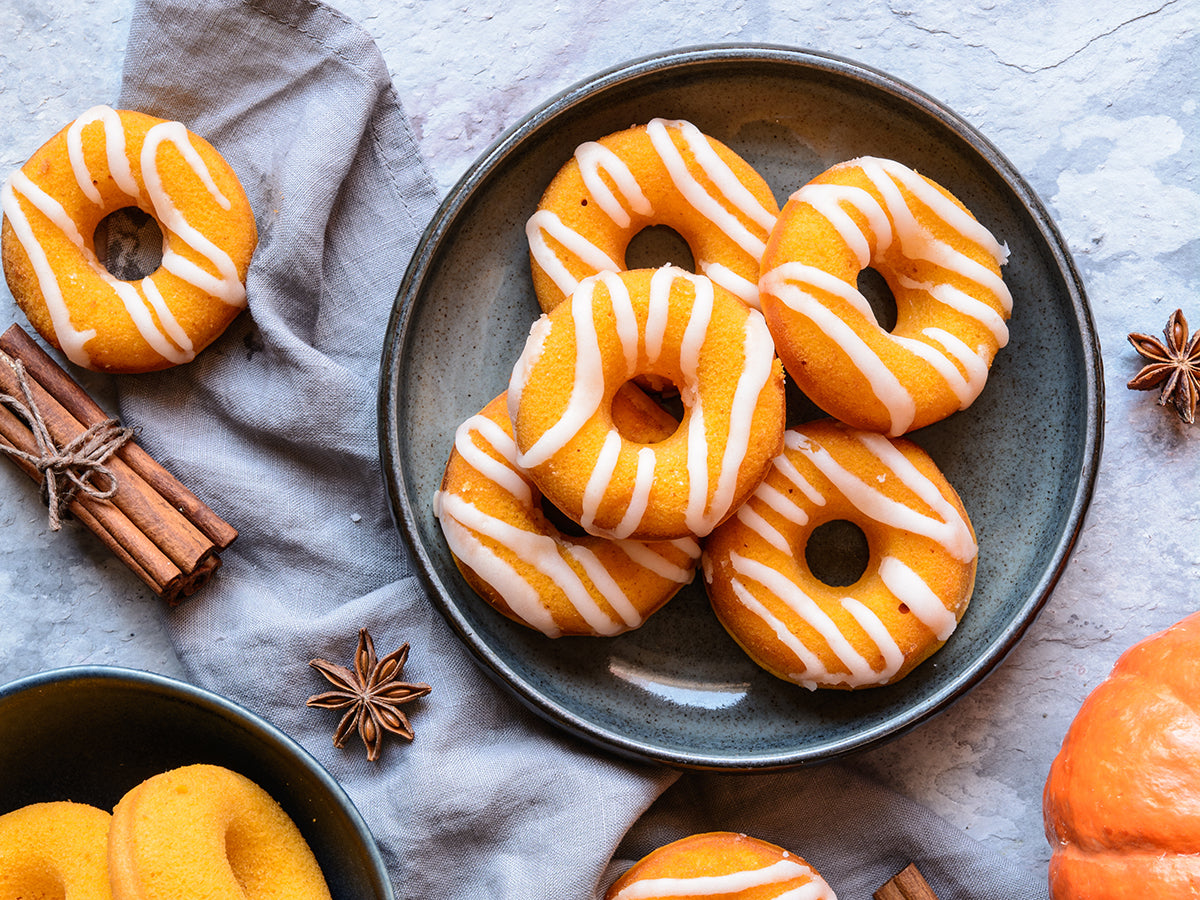 We know it is full PSL season when we start craving one of our homemade Pumpkin donuts to go with our Pumpkin Spice Latte. Everybody loves a good donut, but frying donuts at home can get tricky. This is why we love baking this fall recipe instead and getting the entire family involved. Made with pumpkin puree, these delicious donuts have the right amount of spice, moisture, and sweetness. Pull out your donuts pan and get baking! 
Ingredients:
1 2/3 cups All Purpose Flour (plus more as needed)
1 cup Granulated Sugar
1 cup Pumpkin Puree
2 Large Eggs
½ cup Vegetable Oil
¼ cup Milk
1 ½ tsp Pumpkin Spice Mix
1 tsp Vanilla Extract
1 tsp Salt
1 tsp Baking Powder
½ tsp Baking Soda
Chefmaster Liqua-Gel® Sunset Orange food coloring
Cooking Spray
Tools & Utensils:
12-cavities Donut Pan (or 2 6-cavities pans)
Measuring Cups & Spoons
Bowls
Stand Mixer with a whisk attachment (or Electric Mixer)*
Toothpicks or Cake Tester
Wire Rack
Batter Dispenser or Pastry Bag (optional)
*Note: This recipe can be mixed by hand if you do not own a stand mixer or an electric mixer.
Preparation:
Measure and prepare your ingredients.

Preheat your oven to 375°F (or 350°F for convection oven).

Prepare your dry mix by combining the following ingredients in a medium size bowl: Flour, Pumpkin Spice Mix, Salt, Baking Powder and Baking Soda.

In a small bowl combine your milk and 4 drops Chefmaster Liqua-Gel® Sunset Orange food coloring

Add the Granulated Sugar and Vegetable Oil to the bowl of your Stand Mixer (or in a large bowl if not using a Stand Mixer).

 

Mix on lowest setting until well-combined.

Add your eggs and vanilla extract. Continue mixing on low until all ingredients form a thick yellowish paste (speed #1 or #2 depending on your mixer brand).

Add the Pumpkin Puree and continue mixing on low until smooth and uniform in color.

Slowly stir half of your dry mix into the bowl until evenly distributed. Add colored Milk and continue stirring to combine.

Add the second half of your dry mix and mix on low until well-combined. Add more orange food color, if desired.

Coat your Donut Pan with Cooking Spray and flour your pan.

Pour your donut batter into a Batter Dispenser, a large measuring cup or a pastry bag for ease of filling in your pan.

Fill each cavity almost to the rim. This will give your donuts a better shape. Live a cavity open if you do not have enough batter to completely fill all 12 of them.

Bake in the center rack of your oven for 15 to 18 minutes (or until the edges of your donuts start separating from the pan).

 
Tip: Check your donuts for doneness with a toothpick or a cake tester. It is normal to have a few moist crumbs attached to your toothpick as these donuts should remain moist due to the Pumpkin Puree.
Remove donuts from oven. Wait a few minutes and flip the pan over your wire rack to let them cool.
Optional: While your donuts bake, prepare some of our simple, but delicious Vanilla Glaze to drizzle on the top of your donuts once they are cooled.